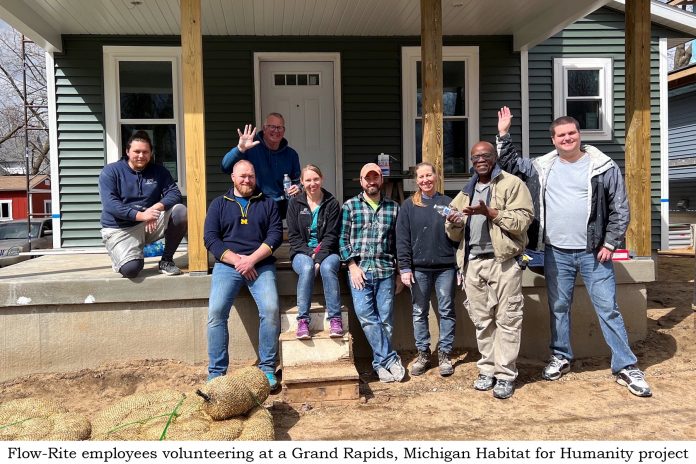 A team of Flow-Rite employees recently traded their office and manufacturing workstations for a construction site when they volunteered for a Habitat for Humanity project. Together, the group of eight worked to help a local Grand Rapids, Michigan family pursue their dreams of attaining safe, clean and affordable housing. Flow-Rite is a leading manufacturer of injection-molded battery watering and fluid control components, and related IoT devices.
"One of Flow-Rite's core values is to serve a greater purpose," said company president Todd Hart. "By volunteering, our team members have done something beyond themselves. Their hard work has the potential to positively impact a family for generations to come." Flow-Rite has a long history of community involvement throughout the Kent County, Michigan area.
Habitat for Humanity of Kent County provides individuals and families with a brighter future. Founded in 1983, it has served more than 600 families and built more than 400 homes. The organization contributes more than $1.5 million in economic impact to the local Grand Rapids economy. Its website is www.habitatkent.org.
Flow-Rite is a vertically integrated company that designs and manufactures a wide range of fluid control and IoT devices. The company's single-point lead-acid battery watering systems are used extensively in golf carts, lifts, floor scrubbers and industrial applications such as forklifts and locomotives. Its products are made using green production processes and materials.
Contact Flow-Rite, 960 74th St SW, Byron Center, MI 49315. 616-583-1700. customerservice@flow-rite.com; www.flow-rite.com; Instagram: FlowRiteControls.