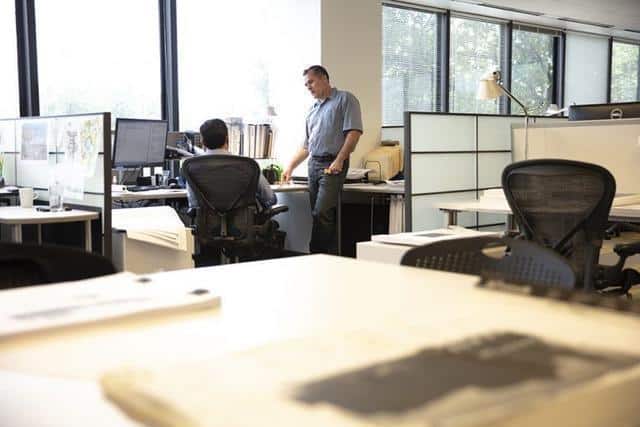 With support from Sarah Bay, RID, an interior designer with a robust portfolio of built work, three's move into the workplace interiors market creates new opportunities for the firm to deliver compelling and transformative environments.
DALLAS – Leveraging decades of combined experience designing enriching and inspiring built environments, the principals with nationally renowned architecture firm three (threearch.com) have announced their ambition to expand the firm's innovation, vision, and activity into interior design for commercial workplaces. Leading the charge will be Sarah Bay, RID, the newest addition to the firm's leadership roster, in the role of director of interior design.
According to Gary Koerner, AIA, three's founder, interior design at three will adhere to the firm's time-tested methodology and core principles. "We engage with our clients before beginning any design work, to envision an environment that will evoke an emotional and transformative experience for the end-user," says Koerner. "Sarah Bay is the ideal choice to lead our foray into the world of commercial office interiors. Her breadth of knowledge and deep experience position her to successfully adapt our process and design approach to create transformative environments for corporate clients."
Rocky Berg, AIA, principal with three, points to Bay's years working on acclaimed projects and her involvement in all phases from design through construction and post-occupancy. "We're privileged to have her joining our ranks," he adds.
A registered interior designer with experience in hospitality, corporate, and restaurant projects, Bay brings extensive knowledge of space planning, building and code requirements, finish and furnishing selection and procurement, and coordination with complex project teams and stakeholder groups. Notable for her ability to collaborate with her clients to bring their design vision to life, Bay consistently delivers high-value results within budget and on time. Outside of her design work, Bay devotes time to her work as Dallas City Center Membership Chair for IIDA Texas, and Co-Chair of Dallas Ladies in CRE. She holds a Bachelor of Fine Arts in Interior Design from the University of Texas and a Masters of Business Administration (MBA) from Colorado Technical University.
"I'm excited to bring three's established methods into interior design, at a time when the workplace is being completely rethought," says Bay. "I see this as an opportunity to partner with clients who share my passion for creating a built environment that supports the brand and vision of each company, provides a healthy place to work, and delivers an edge in attracting and retaining top talent."
Bay will play an essential role for three in managing interior workplace projects through all phases, while leading business development within the corporate sector. Recent accomplishments include a major office renovation in Westlake, Texas – a project that included space planning, finish and furnishing selections, construction documents, and construction administration in the scope – and Union Park Amenity Center, serving a 55-plus adult residential community in Little Elm, Texas, a 9,000-square-foot designed by Bay. The amenity center design features high-end finishes throughout: various lounge spaces, a coffee room, meeting rooms, and fitness center. She supported the design and construction elements in this project, and as well as the 3D modeling and renderings.
Adds Koerner, "In addition to the workplace component, Sarah's experience and strengths as a team player and gifted collaborator will also have occasion to complement our work in the leisure marketplace."