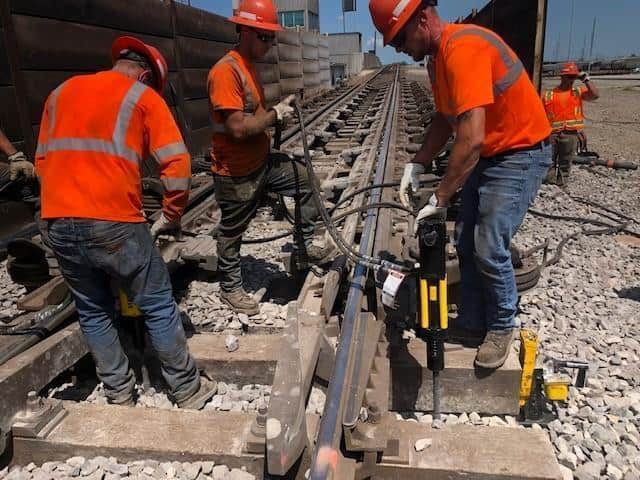 EnviroRail is offering the railroad industry a successful alternative, mechanical concrete. Railroads currently spend millions of dollars on maintenance activities associated with surface-related defects each year. These activities include surfacing, cribbing, spot undercutting, and installing trench drains. Many locations continue to fail and require the railroad to send maintenance crews back to the same location, time and time again.
EnviroRail is confident that mechanical concrete can drastically reduce (or even eliminate) repeat maintenance tasks performed to address repeat surface-related defects and slow orders. Also, extending the life cycle of track components, ties, rail, frogs, diamonds, track in tunnels, road crossings/ bridge approaches, bridge abutments, repeat or chronic subgrade issue areas, etc.
Mechanical concrete's load-bearing is greater than granite ballast in vertical load PSI testing, more than five times stronger than its competitors. This offers over double the PSI strength required by AREMA sub-grade / sub-ballast specs and can be installed on top of any sub-base to effectively re-create a more robust hardpan. Check out this video to learn more about mechanical concrete and how it is installed.
Mechanical concrete is also competitively priced compared to alternative subgrade reinforcing products. This offers those in the industry an opportunity to use this eco-friendly alternative at a price that is at the same level as its competitors.
EnviroRail is a nationwide services contractor serving the railroad industry. To learn more about them please contact (402) 591-9339 or visit their website https://www.envirorail.net/.