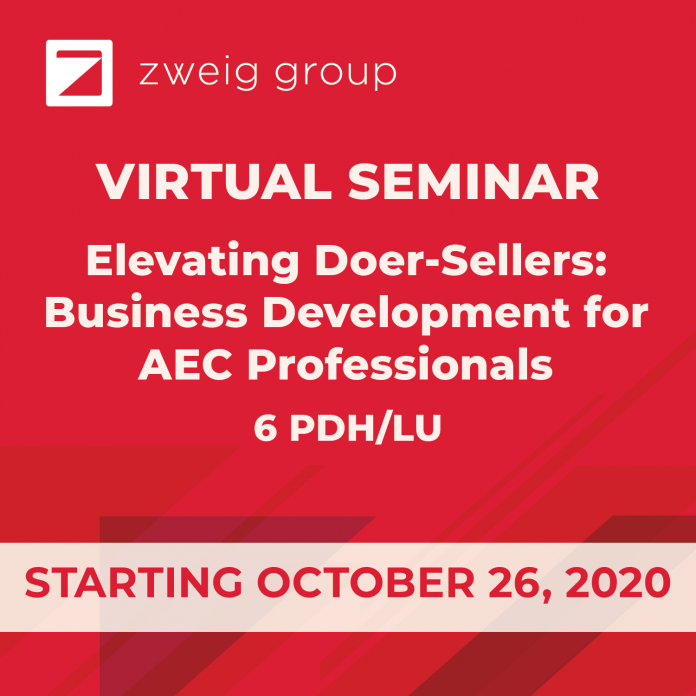 Starting October 26, 2020
Program Overview:
This is a six-week program of one hour each week of a live zoom meeting with our seminar instructors. These meetings will be a mix of presentations as well as open-ended Q&A sessions.
Elevating Doer-Sellers: Business Development for AEC Professionals is specifically developed to help design and technical professionals in architecture, engineering, planning, and environmental firms become more comfortable managing clients and promoting the firm and its services. Led by two retired and current CEOs with extensive experience from the design desk to the board room, this one-of-a-kind seminar presents business development techniques proven to drive real growth and value in your AEC firm. Beyond the buzzword heavy, ra-ra approach of other business development and sales training seminars, this seminar focuses on what really works in today's AEC firm utilizing practical and proven techniques that resonate across the organizational chart. Utilizing a unique workshop approach, current CEO of Zweig Group, Chad Clinehens, and retired CEO of Garver, Dan Williams, will lead participants through an immersion of what it takes to grow an AEC firm.  Topics include what drives value in an AEC firm, building a strong brand, how to develop more business, and maximizing the client experience taught through a combination of lectures, discussions, workshops, and a complete project pursuit activity.
Summary Details:
Taking place on a Zoom meeting, participants are able to network with the instructors as well as the other participants
Six-week program, with one-hour meetings each week of live content
Six credit hours
Registration Includes:
Six live meetings with the Zweig Group instructors
Live presentations so attendees can ask questions and get real-time answers
The same highly-rated seminar content will be taught in the convenience of your own home/office
Polls, quizzes and interactive material that will keep participants engaged
Participants will also get the recorded sessions to look back on for years to come
Schedule:
Week One: Monday, October 12, 2020 from 11:00 AM-12:00 PM CT
Week Two: Monday, October 19, 2020 from 11:00 AM-12:00 PM CT
Week Three: Monday, October 26, 2020 from 11:00 AM-12:00 PM CT
Week Four: Monday, November 2, 2020 from 11:00 AM-12:00 PM CT
Week Five: Monday, November 9, 2020 from 11:00 AM-12:00 PM CT
Week Six: Monday, November 16, 2020 from 11:00 AM-12:00 PM CT
Discussion topics include:
What drives real growth in today's AEC firm
What's different about business development and marketing and how to leverage both for maximum success
Dispelling the myths about business development unique to this industry
Proven methods and tips for improving your win rate
A practical system of targeting and closing sales
How to maximize the client experience to gain a tremendous competitive advantage
How to develop proposals and presentations that beat the competition 
Who should attend?
Doer-Sellers
Business Developers
Market Leaders
Marketers
Project Managers
Instructors:
Chad Clinehens, PE 
Chad Clinehens is the president and CEO of Zweig Group, the leading research, publishing, and consulting firm for the architecture and engineering industry. Passionate about the business side of design and technical service firms, Chad has built a career on leading them through growth and change.
Chad has worked with AEC firms throughout the U.S. on a variety of needs – strategic business planning, turnarounds, partner separations, organizational restructuring, mergers and acquisitions, marketing and sales, growth campaigns, and more.
As a registered professional engineer, Chad brings an in-depth knowledge of what makes professional service firms and the people who work for them unique. Working in the industry for more than 25 years, he has been involved in many aspects of the business including design, project management, department management, regional office management, and directional leadership.
Chad holds a Master's Degree in Business Administration as well as a Bachelor of Science in Civil Engineering and is a registered professional engineer.
Dan Williams, PE
Dan is an executive consultant with Zweig Group, putting his 40-year career in AEC to work for our clients. Starting as a design engineer, Dan has experienced essentially every aspect of the profession. For the last 15 years of his career, he served as COO and then CEO and guided his firm during rapid growth from 200 to over 700 employees while opening 19 new offices.  His firm finished both in the top three of the Zweig Best Firms to Work For and as a Zweig Hot Firm for five consecutive years.
Dan is now offering his expertise to Zweig, providing business consulting, strategic planning, cultural initiatives, and executive coaching. Dan has extensive experience in developing effective boards, ownership transition strategies, organizational restructuring, internal training programs, mergers and acquisitions, and much more.  He is currently completing his certification in executive coaching and is effective working one-on-one or with leadership groups. He holds a BS in Civil Engineering from the University of Arkansas and is a registered professional engineer in several states.