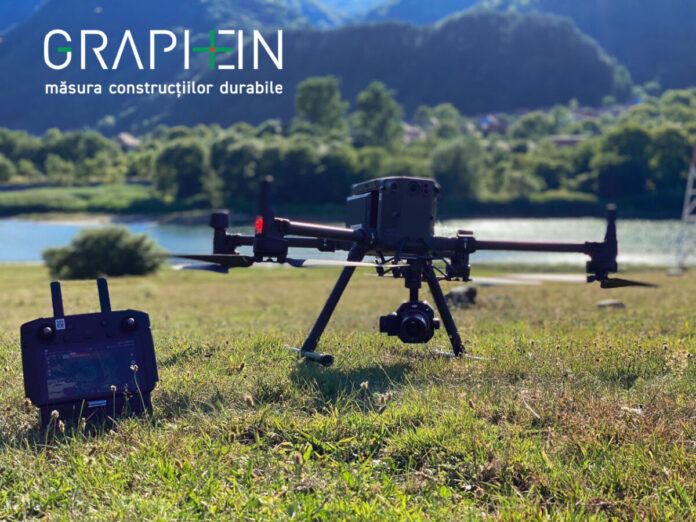 By Luke Carothers
Andrei Șueran founded Graphein nine years ago on a leap of faith with his business partner Eurgen Ursu.  While Șueran says that simply starting a business in itself is an adventure, starting Graphein was even more of a fraught road.  This is because pitching Graphein meant pitching new technologies and solutions to a market that he says favors "the good old ways."  Despite the challenges, Șueran and Ursu made a bet when they founded the company, but, so far, they've played their cards right.  Based in Romania, Graphein is a service integrator for the construction industry–supporting engineering, surveying, 3D scanning and modeling, and building behavior monitoring–and an Autodesk partner.  Șueran says that he and Ursu take pride in that they've managed to gather people within Graphein that are able to both "deliver jaw-dropping results" and maintain an open culture filled with passionate individuals.  According to Șueran, this ability to recruit and retain top-level talent, that are also amazing individuals, has led to a pleasant working environment and a great reputation with clients. 
Șueran is, at his core, a geodetic engineer–"always and forever" in his words.  He never envisioned taking on the role of an entrepreneur.  However, Șueran believes that becoming an entrepreneur came into his life in a "natural manner", having stemmed from a long lasting desire to improve and innovate his field of work.  His movement into entrepreneurship has allowed him to do just that, and, since founding Graphein, he has been able to get more involved with the process of product development.  This includes working more in the testing phase and contributing input to the process.  
Șueran believes that one of the most common needs across the construction industry is the ability to optimize and speed up processes without compromising the quality of work.  Șueran also believes that drones have and will continue to play a massive role in providing this service for the construction industry. For many companies in the construction industry, the deployment of drones has resulted in massing time-savings while also producing "top-notch" results.  An extended result of the effect drone deployment has had on the AEC industry is that companies are able to get involved in more projects.  Șueran extends this, believing that drones have also increased companies' abilities to engage in projects with various degrees of difficulty.  These positive results mean that the construction industry has gained a high level of trust in the technology, but still other technologies that have the same potential to shape the industry are still in the process of earning this trust.  As the benefits of these technologies are demonstrated, Șueran believes that, like drones, people will begin relying on them more.  Șueran notes that there have been projects brought to fruition solely by using drone surveying.  In the example of drones, this wider adoption of the technology has led to a new market filled with "high quality products."  
To highlight just how much drones and drone technology have shaped the construction industry, he points to an ambitious project that involves building a highway that connects the cities of Sibiu and Pitești in Romania. This massive project consists of 7 tunnels, 24 bridges, and 18 viaducts.  In the process of constructing this important piece of infrastructure, Graphein and the other project teams relied on TOPODRONE products like LiDAR ULTRA and AQUAMAPPER.  According to Șueran, the project has put his team to the test because of its location in an "unfriendly landform," which consists of densely wooded areas and significant elevation changes.  Șueran says the project has put his team and equipment to the test, but, by relying on the best products, these difficulties are surmountable.  To overcome the challenges posed by terrain, Graphein's team has been deploying TOPODRONE's LiDAR ULTRA on board a DJI Matrice 300 drone to capture laser scanning from an altitude of 100-120 meters.  Using this technology, he says they were able to capture an area of densely-wooded terrain 32-km lengthwise by 400 meters wide with only 14 drone flights.
The highway construction project from Sibiu to Pitești also contains an added wrinkle that, according to Șueran, proved to be the biggest challenge.  Part of this difficult terrain scanning included mapping under the 6 river crossings on the project.  To achieve this, Șueran and his team relied on TOPODRONE's AQUAMAPPER–a device for airborne bathymetric surveying– which was then only recently out of development.  He says that, despite the potential difficulties posed by this underwater mapping, AQUAMAPPER has vastly improved the performance of the bathymetric surveying for the project.  What is perhaps more remarkable is that, despite the terrain challenges stemming from water, trees, and topography, surveying for the project lasted less than 10 days.  Șueran points out that drones played a significant role in shaping the project, and the time they saved is a testament to how much drone technology has advanced in the construction industry.  By relying on tools like those developed by TOPODRONE, Șueran believes that more projects like the one in Romania will see immensely positive results.