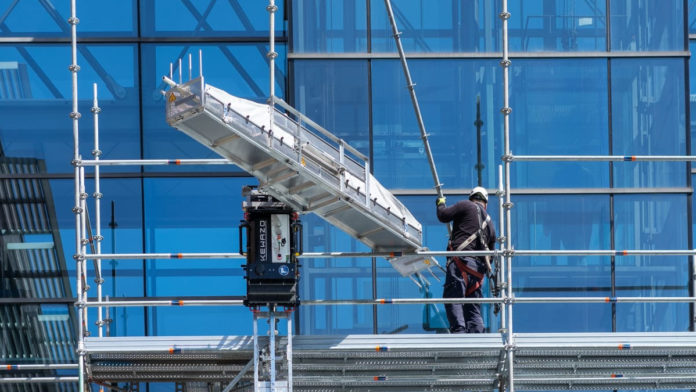 The Nemetschek Group, one of the global leading software providers for the construction and media industries, participated in a financing round for the robotics startup KEWAZO. The investment is a strong continuation of the Nemetschek Group's venture strategy of driving efficiency and innovation in the construction industry.
Stakeholders in the construction industry are facing acute challenges: rising prices for raw materials, labor shortage, and a high pressure on productivity often result in cost overruns and low efficiency in construction projects. KEWAZO's robotic products enable the automation and digitalization of the on-site material flow by combining robotics and data analytics.
By being involved in critical on-site activities, the robotic products of KEWAZO collect key operational data. This data is then processed and provided to customers as actionable insights via the data analytics platform, enhancing the transparency of what happens on-site at construction sites and industrial plants. The results are a data-driven and proactive project management. Since 2021, KEWAZO's products have been used on Europe's iconic construction sites and leading industrial plants in the oil, gas, energy, and chemical industries.
"We see a great fit between our software and the robotics solutions from KEWAZO. By driving both, we unleash a lot of potential for the construction industry and enable all the stakeholders to face the current challenges of the industry", says Yves Padrines, CEO of the Nemetschek Group.
"The investment by the global player Nemetschek is a big step forward for us. It closes the gap between onsite hardware and software, which is often only used in offices. It allows us to make the construction site more digital, smarter, and safer for everyone", comments Artem Kuchukov, CEO and Co-Founder of KEWAZO.
The results speak for themselves: By implementing KEWAZO's solution, 70% of man-hours can be saved. This is not only addressing the critical labor-shortage, but simultaneously reducing the risk of accidents and improving overall working conditions on-site.
Tanja Kufner, Head of Startups & Venture Investments at the Nemetschek Group adds that "investing KEWAZO is a strong continuation of our strategy of driving innovation and digitalization throughout the entire value chain of construction." The cash infusion from excellent investor group will enable KEWAZO's team to grow their team, accelerate the go to market in other regions and the development of new features.
The investment in KEWAZO is the first for the Nemetschek Group in a robotics startup and continues its strategy of supporting young and innovative entrepreneurs to shape the future AEC/O market and drive innovation. See also our recent announcements regarding investments in the startups SymTerra, Imerso, Reconstruct, and Sablono.