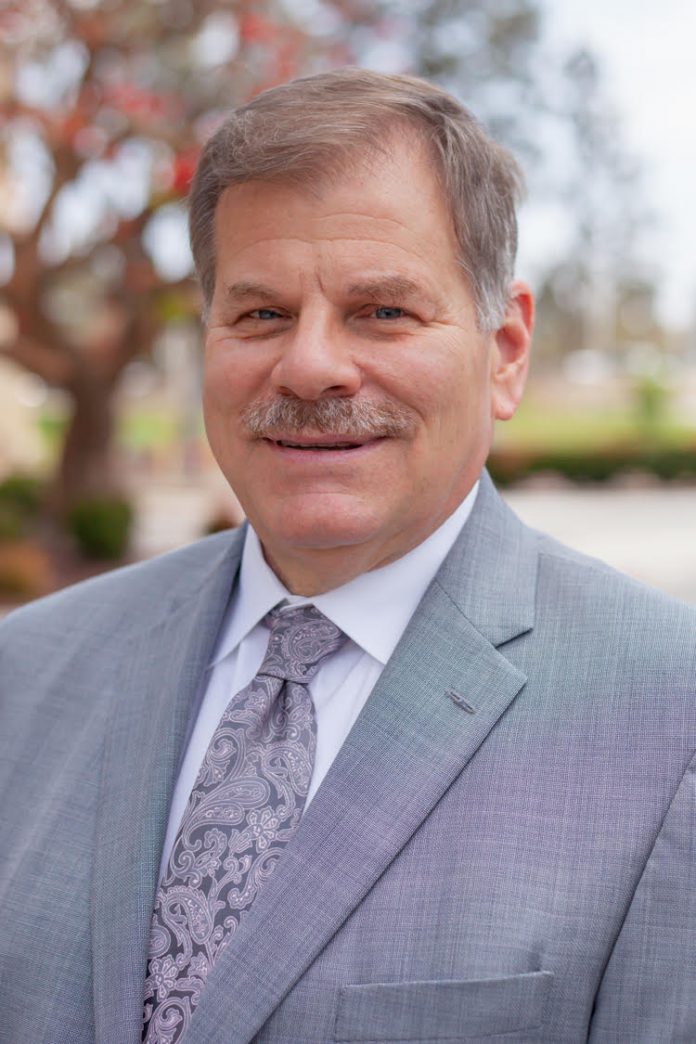 VENTURA COUNTY – David Fleisch, Assistant Director of Ventura County Public Works Agency (VCPWA), has been named The American Public Works Association's Professional of the Year for the Ventura County Chapter. The APWA Awards Program recognizes outstanding individuals, groups and chapters representing the best in public works. 
Fleisch has been an extraordinary asset to the County of Ventura for over 11 years, first as Director of Roads & Transportation and now as Assistant Agency Director. His skills and service have greatly impacted public works, the county, and the state in pursuit of continued innovation, excellence, and improvement in public safety.
"Having worked alongside Dave for the past three years, observing his professionalism, integrity, and dedication it was no surprise when he was selected as the APWA Professional of the Year. His natural leadership skills come through in his approach to both projects and personnel." says Joan Araujo, VCPWA Central Services Director, who has worked with Fleisch for 3 years.
Before becoming Assistant Director at VCPWA, David served as Director of Roads & Transportation for 11 years. In that role, he identified many improvements which have been successfully implemented. He also mentored staff and fostered greater communication and coordination among several public agencies. Fleisch made organizational and leadership changes that have helped the department accomplish its work more efficiently and effectively. Some examples include: 
Reorganized Roads & Transportation's filing system into a centralized electronic server. The department now operates nearly paperless.

Each Section has created Standard Operating Procedures to accomplish their work. These SOPs create stability and flow without undue dependence on individual talent

s

 or personality.

Improved how Traffic Impact Studies are prepared and reviewed.

Instrumental in creating tools to track the status of all capital projects, including information related to funding, cost, project status, and the project team.

All managers are now involved in budget preparation and monitoring.
Now as Assistant Director, Fleisch oversees three operational departments, Roads & Transportation, Water & Sanitation, and Watershed Protection while also assisting three operational Department Directors with the advancement of specific projects and programs.  
While at Public Works, Fleisch has also held countless positions in other organizations that contribute not only to the county, but to the state of California. Some of his roles include volunteering as chairman of the Ventura County Civic Alliance, state chairman for the County Engineers Association of California (CEAC) Transportation Policy committee, and chairman of the California Traffic Control Devices Committee. Fleisch is also an active member of APWA, California League of Cities, CSAC, and ASCE. 
In January 2021, Fleisch was tasked with setting up the first COVID-19 Vaccination Center in Ventura County. His center became the model for at least 4 other vaccination locations that immediately followed.  There were over 150,000 vaccinations administered at the center between January and May 2021. Despite many logistical challenges, this urgent and complex assignment was a success with approximately 60% of Ventura County residents receiving a vaccination within the first five months.
Prior to joining the County in 2010, Fleisch completed a 28-year career in the U.S. Navy. During his Navy career, Captain Fleisch served as the Chief Staff Officer, NBVC, Chief, Engineering Division, U.S. Pacific Command, Commanding Officer, Naval Mobile Construction Battalion, FIVE, and Production Officer for the Navy Public Works Center in San Diego. He retired in August 2009 as Captain in the Civil Engineer Corps.
Fleisch has a Bachelor of Science degree in Architectural Engineering from Cal Poly San Luis Obispo, a Master of Science degree in Civil Engineering from UC Berkeley, and is a graduate of the Executive Education Program at Duke University. He is a licensed civil engineer in California and Washington.
"David Fleisch, the epitome of kindness, service, and humility, is the type of person people are fortunate enough to meet once in a lifetime. I am privileged to learn from his example.  When you really get to know Dave, you find a husband, father, grandfather, and friend that brings as much passion into the personal aspects of his life as he does his professional world," says Araujo.