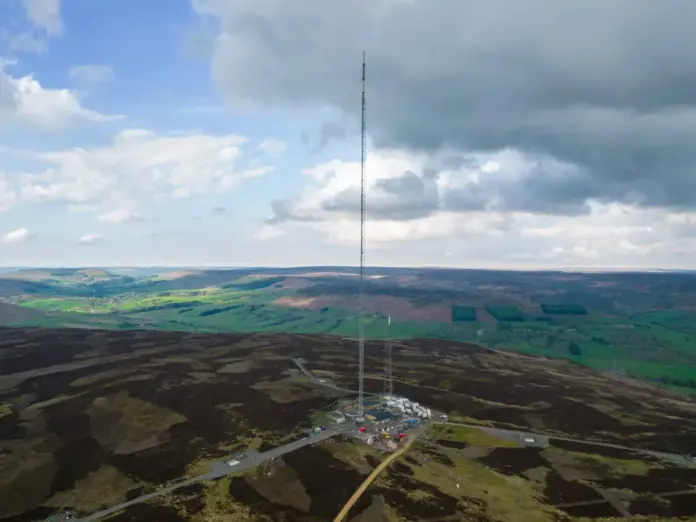 By putting sustainability at the heart of its design development processes, Engineering consultancy COWI helped its customer Arqiva, the leading global communications infrastructure and media services company, to remove 240 tonnes of embodied carbon from the design of the new Bilsdale mast, almost 40% of the initial total.
COWI in the UK has provided consultancy services to Arqiva for over 50 years and was asked to provide structural advice and to lead a technical investigation into the original fire-damaged
mast. The goal of COWI's work was to establish whether the structure could be rescued or whether it needed to be demolished and rebuilt.
The assessment found the mast could not be repaired, so it was demolished. Subsequent investigations showed that the original mast foundations were undamaged by the fire and demolition and an early decision was undertaken to reuse the existing foundations, with some modification to suit the new mast. This change was incorporated into the carbon baseline for the project with COWI seeking to develop and implement innovative new standards in carbon management in infrastructure.
Several alternative concepts were investigated to optimise the performance of the structure. The capital carbon for each option was calculated using COWI's carbon calculation tool. The short feedback loop when using the tool allowed the carbon impact of each option to be quantified, allowing several sustainable options to be incorporated into the design, the most significant of which included:
The configuration of stay cables was revised, reducing the number of stay levels from six to five. This in turn allowed the volume of concrete needed to modify the existing foundations to be reduced.
The baseline design had spiral strand stay cables with diameters between 50mm and 65mm. Refined assessment of wind loading allowed all stays to be reduced to either 40mm or 45mm diameter.
The structural members of the mast column were optimised to ensure an effective design solution whilst minimising embodied carbon, for example all bracing members were reduced in size. Typically bracing was reduced from 100x100x10 angles to 80x80x8 angles.
Daniel Parry, Principal Engineer, COWI in the UK, said: "In collaboration with clients and project partners, from day one, we take a holistic approach to a project's carbon footprint and by using our own designed carbon calculator, we were able to secure a substantial reduction in carbon."