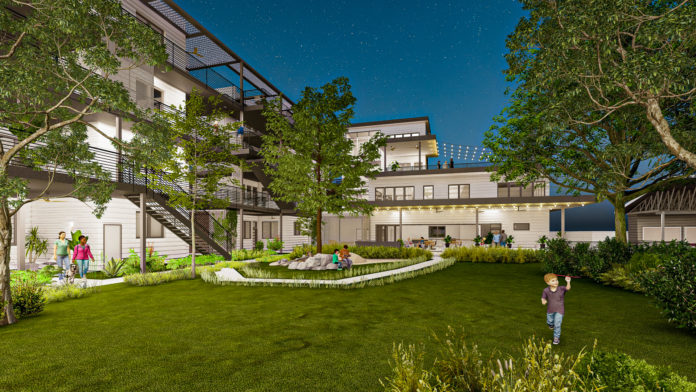 CoHousing Houston is the first planned community development in Harris County to install a geothermal heat exchange system. This sustainable and energy-efficient technology uses the earth's constant temperature to regulate the temperature in living spaces. Currently, this state-of-the-art geothermal cooling and heating system is being installed by drilling 63 wells, each 300 feet deep. These wells will house tubing that circulates water in a closed loop, to provide cooling in the summer and heating in the winter.
Geothermal heat exchange systems are efficient and reduce the environmental carbon footprint. In this closed-loop system, temperatures in living spaces are regulated without relying on external energy sources such as gas or electricity. Even heat generated from the air conditioning system is captured and used to heat the water used in kitchens and bathrooms. The closed-loop system can result in significant savings on energy costs for homeowners and reduced greenhouse gas emissions. CoHousing Houston's decision to use this technology is a step towards a more sustainable and environmentally friendly future for the Greater Houston Area.
Lynn Morstead, member, and future resident of CoHousing Houston explained, "Sustainability and connection are two of our core values. We're excited to bring cohousing to Texas and reduce our footprint simultaneously." She added, "When the geothermal heat exchange is in place, you won't even know that it is working to keep our homes cool and energy costs lower, because it's hidden underground."
Groundbreaking was in January 2022 for 33 cohousing condominium units to be built in the East End inside Loop 610. To date, 30 units have been sold to families and individuals who are choosing this new way of living. Cohousing is a form of intentional community where residents live in private homes clustered around communal spaces, like common dining and living areas, playgrounds, and community gardens. The residents actively participate in the design and operation of their neighborhoods, and major decisions are implemented through consensus among the residents. In contrast to traditional developments, cohousing communities are designed to encourage strong social interaction and a greater sense of common life among residents.
CoHousing Houston is a community designed by experienced cohousing visionaries who have created proven living communities in other parts of the country. Lead architect, Kathleen English, is LEED certified and brings significant experience with sustainable and green building.
CoHousing Houston's developer, David Kelley, is a member of the industry-leading 500 Communities Program. He trained with Katie McCamant, architect and author of "Creating Cohousing: Building Sustainable Communities". Kelley says, "I fell in love with the humanistic aspect of cohousing as having a large tribe of caring neighbors, friends, and partners. To some extent, it's a returning to small-town values I grew up with, where the community was king."
Many of the current owners were drawn to this value proposition, including the social interdependence through the shared spaces for cooking and dining, as well as social gathering areas, where residents can come together and build a sense of community. Additionally, the emphasis on sharing and cooperation can help to reduce costs and foster a more sustainable way of living. Finally, the site selected made walking, bike riding, and light rail transportation readily available.