University of Arizona's BSPB features copper-clad façade inspired by desert landscape in Phoenix. Photo: Bill Timmerman
Los Angeles — Three higher education projects designed by CO Architects in Phoenix and Miami have been shortlisted by the World Architecture Festival (WAF), a globally recognized competition that brings together the world's top architecture and interior design professionals.  Finalists will present their designs live in Germany at the Arena Berlin to industry delegates and an international jury November 15-16, 2017.  Winners will be announced at an evening gala on November 17, 2017.
The 245,000-square-foot, 10-story Biomedical Sciences Partnership Building (BSPB) at the University of Arizona has been shortlisted in the Higher Education and Research – Completed Buildings category.  In addition to BSPB, CO Architects has been shortlisted for two unbuilt projects for the University of Miami: The Miller Medical Education Center in the Education – Future Projects category, and Student Housing Master Plan Phase 1 in the Competition Entries – Future Projects category.  Both unbuilt projects are the only US-represented designs in their categories.
From its one location in Los Angeles, CO Architects has built a national practice with projects spanning from West Coast to East Coast.  The firm's work is guided by a vision as forward-thinking as it is timeless, and sensibilities as attuned to sustainability as constructability.  Its collaborative approach extends to a core commitment to serving purpose-driven goals inherent in institutional projects.  CO Architects engages in the long-term planning and intellectual immersion necessary for realizing environments conducive to teaching, learning, healing, research, and exploration.
"At CO Architects, we view each building or plan as an opportunity to create something new and different, and delight in pushing the boundaries of design," said Paul Zajfen, FAIA, RIBA, Design Principal at CO Architects.  "We're fascinated with spatial relationships and the predilection of re-examining building types."
Programmed, designed, and constructed in only 27 months, the $99-million BSPB allows University of Arizona research scientists to collaborate with local healthcare providers and private companies to find new medical cures and treatments.  Located to the north of the Health Sciences Education Building — also designed by the same architect and contractor team — on the University of Arizona's biomedical research campus in Downtown Phoenix, the building's distinctive copper-clad design draws inspiration from the region's mountains and canyons.  Cantilevered floors extending outward provide shade to the lower levels, while windows are mostly limited to the north and south sides of the building to conserve energy.  Open offices take advantage of daylight and views at the north perimeter, as well as flexible lab support spaces designed as "wet garages" next to windows on the south end.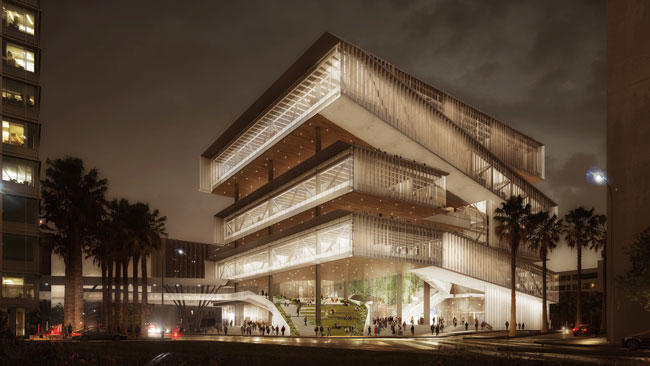 Flexible, multi-purpose spaces offer different learning settings for University of Miami Medical Center. Rendering: CO Architects
---
The 120,000-square-foot Miller Medical Education Center (scheduled for completion in 2019) provides adaptability to technological and teaching advances, responds to the local climate and culture, and represents the prominence of the university.  The building features multi-purpose spaces on lower levels to enable learning in a variety of configurations. A column-free loft on the upper level accommodates multiple skills training and assessment settings.  Middle levels are dedicated to functions, such as learning spaces, academic societies, student commons, and offices.  Shaded and planted outdoor verandas on every floor provide opportunities for socialization or individual study.  Ramps, stairs, and platforms connect the verandas, encourage physical movement between floors, and provide city views.  Passive solar orientation, ample shading, air movement, water elements, and plants are strategies for creating usable outdoor space.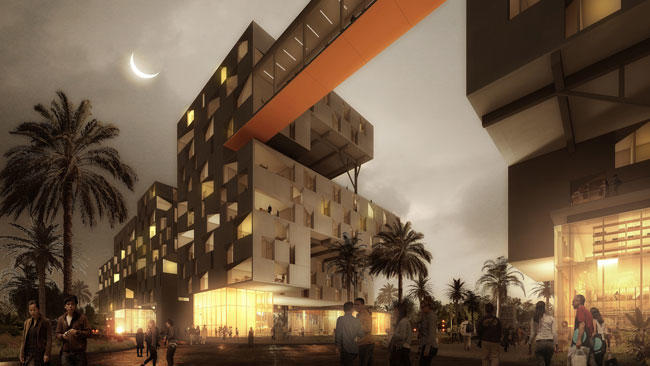 University of Miami's student housing explores notion of community with multiple social settings. Rendering: CO Architects
---
To provide meaningful spaces that foster living and learning, CO Architects developed a conceptual design for the Student Housing Master Plan Phase 1 to offer a diverse congregation of cohesive, multi-functional buildings.  The design features multiple scales of social environments, from a single student room to the university campus at large.  The idea of community is reflected in the design and permeates throughout the building structure.  The "home" encourages resident interaction, collaboration, collective learning, and opportunities for chance encounters.  The Hurricane Track encourages healthy living within the community and peaks at The Learning Summit, a multi-disciplinary resource within the living environment.  The Great Room provides an area to host art exhibitions and conferences, while the Amenity Promenade embraces both residents and the visiting community with retail space and artist studios.