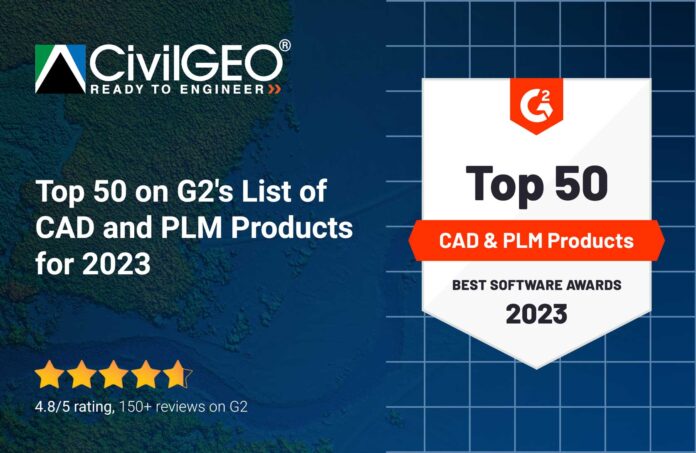 CivilGEO, one of the world's fastest-growing civil engineering software companies, today announced it has been recognized in G2's 2023 Best Software Awards. CivilGEO's GeoHECRAS is placed in the top 50 "CAD & PLM Products" amongst thousands of other contenders on G2. This recognition is determined via actual customer feedback on software features and functionality.
As the world's largest and most trusted software marketplace, G2 is visited by more than 80 million software buyers each year. G2's annual Best Software Awards rank the world's best software companies and products based on authentic, timely reviews from real users.
"While G2 publishes the Best Software Awards each year, they're really awards from customers," said Sara Rossio, Chief Product Officer at G2. "Representing a vote of confidence from real software users, these awards also spotlight those that have risen to the top among thousands of companies. With 2 million+ verified software reviews, the most in a single destination, our marketplace features more than 145,000 products and services across 2,100 different categories. Congratulations to all those named, as buyers will continue to lean on these awards as a trusted source to inform their software decisions in the year ahead."
The top 100 companies are ranked based on a combination of Satisfaction and Market Presence scores for each vendor, and the top 100 products are ranked based on reviews across all categories they are a part of. To be recognized as a Best Software Award winner, a software company or product must receive at least 50 approved and published reviews during the 2022 calendar year. Scores reflect only data from reviews submitted during this evaluation period.
To learn more, view G2's 2023 Best Software Awards list.
To know more about CivilGEO, click here.