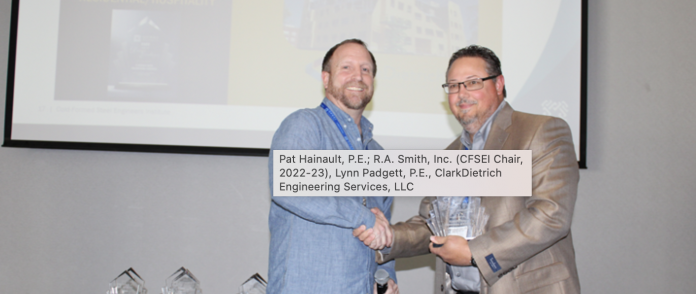 WASHINGTON, D.C. —The Cold-Formed Steel Engineers Institute (CFSEI) has announced the     winners of its 2022 CFSEI Design Excellence and Creative Detail awards. This year's awards were presented during the 2022 CFSEI Expo held May 16-18 at the Curtis Denver—a DoubleTree by Hilton Hotel in Denver, Colorado.
CFSEI Design Excellence Awards recognize projects that exemplify excellence in the structural design of new or renovated structures utilizing cold-formed steel (CFS) products. Entries are judged on design creativity, technical innovation and overall project excellence in cold-formed steel utilization in the Residential/Hospitality and Municipal categories, with Municipal subcategories covering cultural, services and sports projects. These are new subcategories added this year. The 2022 CFSEI Design Excellence Award winners are:
Category: Residential/Hospitality
First Place—ClarkDietrich Engineering Services, LLC—Selfhelp Freeport Senior Housing—Freeport, NY
Second Place—Martin/Martin, Inc.—Hilton Garden Inn Madison Downtown—Madison, WI
Third Place—McClure Engineering—Hub II on Campus—Gainesville, FL
Category: Municipal/Cultural
First Place—Lochsa Engineering, LLC—Audrey Irmas Pavilion—Los Angeles, CA
Second Place—Martin/Martin, Inc.—Meow Wolf Denver—Denver, CO
Third Place—McClure Engineering—United States Olympic and Paralympic Museum—Colorado Springs, CO
Category: Municipal/Services
First Place—R.A. Smith, Inc.—Lexington Convention Center—Lexington, KY
Second Place—The Leffler Group—AIMS Welcome Center—Greeley, CO
Third Place—ClarkDietrich Engineering Services, LLC—PortMiami Terminal V—Miami, FL
Category: Municipal/Sports
First Place—Structural Evolution LLC—SoFi Stadium Pod Buildings—Inglewood, CA
Second Place—Excel Engineering—Columbus Crew Stadium—Columbus, OH
Third Place—ADTEK Engineers, Inc.—Darrell K Royal Texas Memorial Stadium South End Zone—Austin, TX
CFSEI Creative Detail Awards recognize a cold-formed steel detail that exemplifies creativity or ingenuity to solve a design challenge. The 2022 CFSEI Creative Detail Awards were presented to:
First Place—Structural Evolution LLC—Pounders Hawaiian Grill—Crestview, FL
Second Place—McClure Engineering—Virgin Low Rise—Las Vegas, NV
Third Place—The Leffler Group—Denver International Airport Great Hall Project, Phase 1—Denver, CO
"It was gratifying to return to an in-person format this year after two years of a virtual Expo," said Robert Wills, P.E., managing director of the Cold-Formed Steel Engineers Institute. "We added new categories to the municipal category of the design awards competition to reflect the broader spectrum of projects that are utilizing the creativity and flexibility that cold-formed steel provides for a wide variety of design challenges. We congratulate the award winners and encourage engineers, architects and other design professionals to learn more about these innovative projects in order to stimulate new ideas for their own projects. We appreciate all of the entries that were submitted."
Wills continued: "We would like to thank our sponsors for supporting this year's event, which would not have been possible otherwise. Our Platinum Sponsors included the Steel Framing Industry Association, USG Corporation and ClarkDietrich Building Systems. Our Gold Sponsor was Douglass Colony, which also provided a tour of their facility for Expo attendees. Our Silver Sponsors were Argos Systems, CEMCO, Marino\WARE, PINNACLE, Simpson Strong-Tie and TrusSteel. Our Bronze Sponsors included Advant Steel LLC , Vulcraft and NexFrame Software. We appreciate all they did to make the 2022 CFSEI Expo successful."
The Cold-Formed Steel Engineers Institute comprises hundreds of structural engineers and other design professionals who are finding a better way to produce safe and efficient designs for commercial and residential structures with cold-formed steel. CFSEI members work together to develop and evolve industry standards and design methods, produce and issue technical bulletins, and provide seminars and online training to improve the knowledge and skills base of engineers and design professionals. For more information, visit https://www.cfsei.org/.