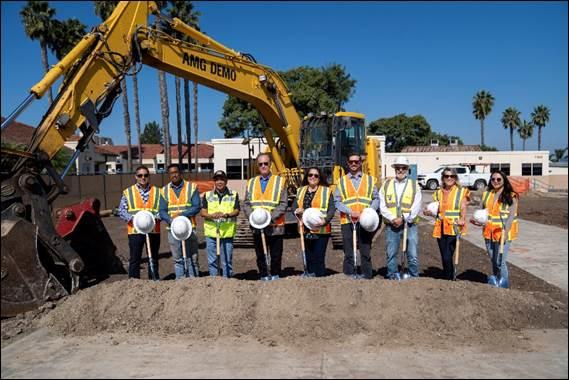 C.W. Driver Companies, a leading builder serving California since 1919, today announced construction commencement on a new, design-build, two-story Chemistry & Biotechnology Building for MiraCosta Community College District (MCCD) that will provide a state-of-the-art science facility for 21st century learning science environments. Set for completion in July 2024, this $35,100,000 complex is situated in one of the most populated circulation paths on the Oceanside Campus.
The two-story building will provide four chemistry labs, four biotech labs, and two classrooms. Of the 25,000 square foot complex, 13,000 square feet will be designated for Biotechnology, while the remaining 12,000 square feet will be used for Chemistry.
"We are excited to begin work on what will be an important asset to MiraCosta College," said Andy Feth, project executive at C.W. Driver. "We are building creatively unique features throughout the building and its exterior will work as focal points for passing students."
The project will include an innovative outdoor space for students and faculty—the STEM Quad Porch. A two-level covered entry court will serve as an exterior lobby for the Chemistry & Biotechnology Building and has a shaded exterior space for the larger STEM community. This covered space will connect to key paths around its perimeter, creating an outstanding al fresco learning environment.
This portion of the project will include wi-fi connectivity, convenient power access, and be filled with plentiful shade. As an ideal meeting space, the porch will enable gatherings of various sizes and compositions, including donor events. The orientation of the porch is ideal for wind and sun protection, as the building is designed to meet LEED Silver certification.
The inviting shade structure will pull students into collaboration in a place where science will truly be on display. This project is a 'hero destination' hub that addresses the present but points to the future.
"This new building will exemplify the high value we place on modern technology here at MiraCosta College," said Joe Webber, MCCD Project Manager. "It represents the investment we are always making in our students and faculty."
C.W. Driver Companies partnered with Harley Ellis Devereaux Architects & Engineers on the Chemistry & Biotechnology Building. Other notable higher education projects by C.W. Driver Companies include the Pomona College Rains Athletic Center; Orange Coast College's Language Arts and Social Science Building, Kinesiology and Athletics Complex and Student Union Complex; Mesa College's Fine Arts Building; Chapman University's Keck Center for Science and Engineering; Cal Poly Pomona's Student Services Building; and Vanguard University's Waugh Student Center.
---
About C.W. Driver Companies
C.W. Driver Companies is a premier builder serving California since 1919. In 2019, the historic company proudly celebrated its 100-year anniversary. As a leader in general contracting and construction management services, C.W. Driver Companies are on the cutting edge across a broad spectrum of industries, including education, commercial/office, technology, healthcare/biomedical, mixed-use, assisted living, entertainment, retail, industrial and civic. Ranked in Engineering News Record's Top 150 General Contractors and Top 100 Construction Managers, C.W. Driver Companies has the ability to build a variety of projects, from large tenant improvements to small renovations and specialized projects through its affiliates Driver SPG and Good & Roberts. C.W. Driver Companies has offices located in Los Angeles, Rancho Cucamonga, Anaheim, San Diego and Carlsbad. For more information, please visit www.cwdriver.com. Follow C.W. Driver Companies on Facebook, Twitter and LinkedIn.