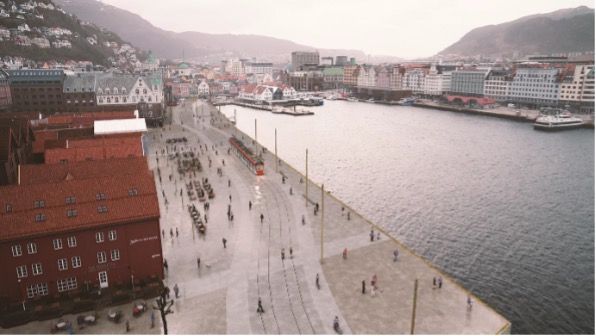 The design contract for the fifth construction phase of the light rail – from the city centre to Åsane – has now been signed with COWI, which is joined by Ramboll and Asplan Viak as sub-consultants. This marks the start of one of Norway's greenest and most complex mobility and urban development projects in the centre of one of the world's most beautiful cities.
"With COWI, Ramboll and Asplan Viak we have a highly competent and enthusiastic team ready to start on this important phase together with Bybanen Utbygging", says Terje Simmenes, Project Director, Bergen Light Rail Construction and Development.
The light rail to Åsane will contribute to green mobility and boost the quality of life in the second largest city in Norway. According to estimates, around 60,000 people will use the light rail every day in 2040. It will follow Bryggen right at the centre of Bergen. In addition to being an ambitious light rail project, it is indeed an immensely sustainable urban development project. A new bicycle path and a rock tunnel expansion are also part of the project.
"This is a key project in terms of securing seamless and sustainable mobility in Bergen. This is a true dream project. We are proud to be entrusted with this important phase of the Bergen Light Rail, working with such a strong team. This will also make one of the most beautiful cities in the world even greener," says Birgit Farstad Larsen, Executive Vice President, COWI.
FACTS
The zoning plan for phase 5 of the Bergen Light Rail was adopted on 31 May 2023.
On 5 June 2023, the partnership consisting of COWI, Asplan Viak and Rambøll signed the consultancy contract with Bergen Light Rail Construction and Development.
The contract sum is approx. NOK 1.1 billion.
The project involves rail alignment, a bicycle path and a tunnel expansion.
The light rail alignment covers a section of 12.7 kilometres and 14 stops.
The bicycle alignment is around 13 kilometres long.
The extension of the Fløyfjell Tunnel is around three kilometres long, bringing the new total tunnel length to around 5.5 kilometres.
The UNESCO world heritage site Bryggen, the old Hanseatic wharf in Bergen, has been a place of trade for a thousand years.