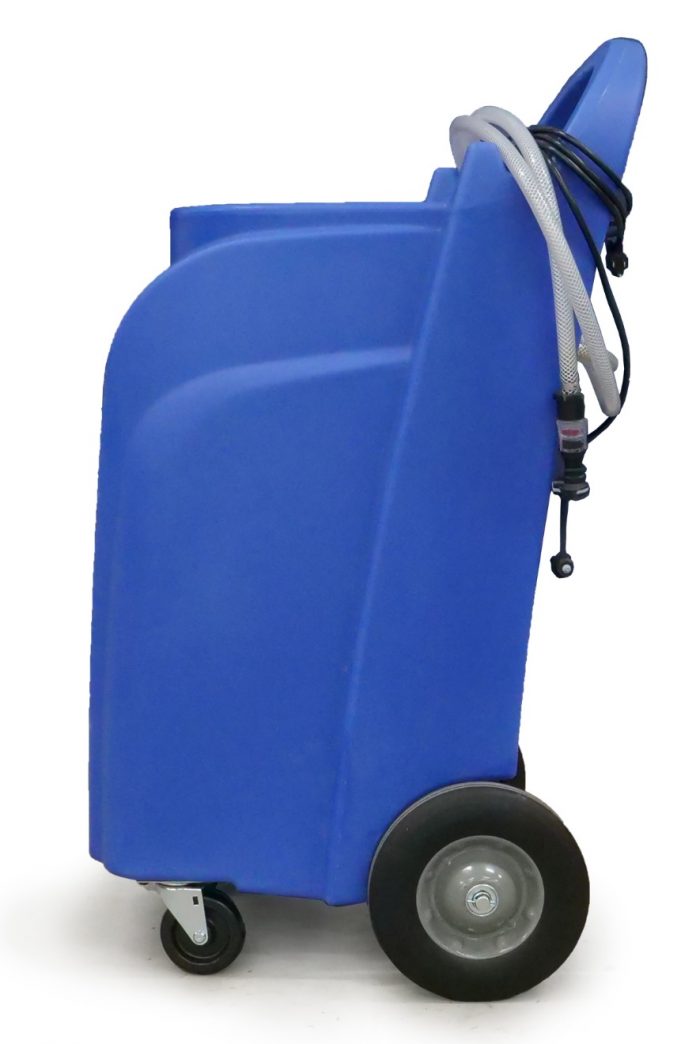 Railyards, mining operations, rental yards and construction sites are notorious for rough, uneven ground. Topping off machinery and vehicle batteries in these areas can be a challenge. Engineered from the ground up for use in harsh environments, and tested in some of the toughest settings, the Rough Terrain Watering Cart from Flow-Rite is ready for demanding work conditions. And now, users can easily transform Flow-Rite's standard Portable Watering Cart into the rough terrain version.
The 20-gallon Rough Terrain Watering Cart features thicker axles and 4″ front casters, plus 10″ rear wheels with metal hubs and solid rubber tires that never go flat. All are designed to simplify crossing large cracks and stones, as well as going up and down steps. These components also comprise the Conversion Kit for the standard Flow-Rite cart, with all necessary hardware included.
User-friendly, the compact, upright design of the Flow-Rite Rough Terrain Watering Cart eliminates bending over and makes storage easier. The large ergonomic handle makes hauling effortless. A quick-access port provides rapid filling. Spray bottle holders are conveniently molded into the unit. Integrated notches keep the 9′ hose in place, even when the unit is jostled over bumps.
An onboard battery and pump deliver water at three gallons per minute. AC/DC powered, indicator lights display when the cart needs
recharging and the current charge level. The Rough Terrain Watering Cart works with all Flow-Rite single-point and most other watering solutions.
The Flow-Rite Rough Terrain Watering Cart BA-MS-116 retails for $1,075; it comes with a one-year warranty. To upgrade wheels and axles on the standard Flow-Rite Portable Watering Cart, Conversion Kit BA-MS-117 is $240.99.