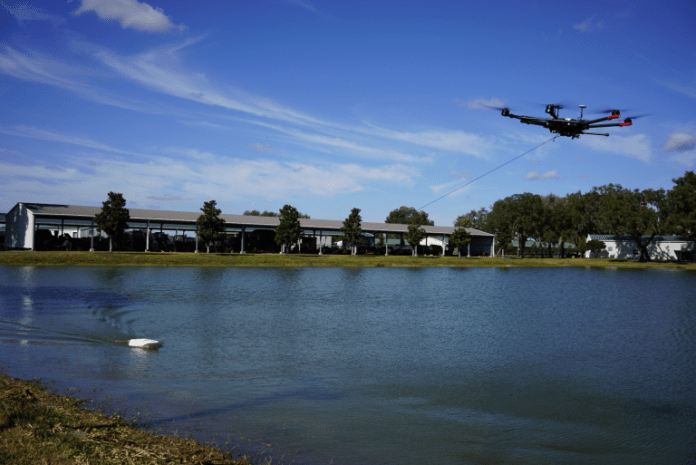 Aurigo Software, the leading provider of capital planning and construction management software for infrastructure and private owners, is partnering with the University of Florida's Department of Mechanical and Aerospace Engineering to develop a revolutionary system for underwater surveying, mapping, and inspection, provisionally named Bathydrone.
The current process to gather data for new underwater construction or the inspection of existing assets such as bridges, docks, and levees consists of manual surveying from divers or survey sensors mounted to a boat. With the new, safer, and more efficient Bathydrone system, a drone drags a small vessel on the water's surface, eliminating the need for manual surveying. The vessel is equipped with a COTS sonar unit mounted on its bottom. The sonar unit has down-scan, side-scan, and chirp capabilities and logs data onboard the console, which is located inside the hull. Data can then be retrieved post-mission from the console and plotted in various ways.
"We are excited to be working on this groundbreaking technology with the team at the University of Florida," said Balaji Sreenivasan, CEO and founder of Aurigo Software. "The Bathydrone system will vastly expand the possibilities for underwater endeavors while providing a cheaper, safer, and more eco-friendly alternative for our customers."
Not only is data collected more easily, but the technology can also be operated remotely and autonomously using AI navigation software to overcome obstacles in or under the water, creating a faster and cheaper solution. The system will also integrate with Aurigo's Masterworks Cloud Platform to properly store and categorize project data and route any inspections or other results for approval or further action.
Additional Bathydrone differentiators include:
Fully battery-operated and better for the environment—no fuel or loud noise
Lightweight and easily transportable
Does not require a dock or boat ramp to get in the water
Able to be deployed in a wide variety of water systems, including shallow water and rivers with strong currents
Able to survey a large area on a single charge
"This project supports our department's mission to conduct state-of-the-art research to advance science and technology," said Peter Ijfu, University of Florida's Mechanical and Aerospace Engineering Excellence Term Professor and Associate Chair of Faculty Affairs. "This pioneering approach to underwater surveying and mapping has multiple real-world applications that are not currently commercially available."
Aurigo will work closely with the Department of Mechanical and Aerospace Engineering's staff and students to bring this leading-edge solution to the infrastructure market in the next 12 to 18 months.