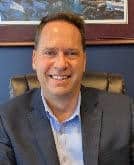 WASHINGTON – The American Society of Mechanical Engineers (ASME) announced today that Chris Connelly, a veteran of Congress, the White House, and the U.S. Chamber of Commerce, has joined the organization as senior director of government relations. Connelly will manage ASME's U.S. government relations team and help develop and advocate for its public policy priorities.
"Chris Connelly brings a wealth of Washington knowledge and experience to his new role as an advocate of America's mechanical engineers," said John Hasselmann, managing director of global public affairs at ASME. "He will be a great asset in our ongoing efforts to educate policymakers on key issues including clean energy, research and development, intelligent manufacturing, bioengineering, workforce development, and international standards."Before joining ASME, Connelly served as chief of staff for three members of Congress: Jo Ann Davis (R-Va.), Scott Rigell (R-Va.), and Vicky Hartzler (R-Mo.). He also served as director of communications at the U.S. Department of Agriculture during the George W. Bush administration, and as senior director of communications and research at the U.S. Chamber of Commerce's Global Intellectual Property Center.
ASME Chief Strategy Officer Michael Johnson added: "ASME is constantly striving to innovate and serve our members better, and Chris Connelly is another example of how we're bringing the best talent to bear in that effort."
"Innovation is the key ingredient in solving our national and global challenges, and I am thrilled to join ASME and help them empower the engineering community to do what they do best: solve problems," said Connelly. "It is an honor to join an organization that has been a leader on the cutting edge of progress, and I look forward to building on this legacy."
As a senior executive with demonstrated success at the highest levels of Capitol Hill, the executive branch, and the private sector, Connelly brings a unique blend of experience to this role. While Connelly was their chief of staff, Reps. Hartzler, Rigell, and Davis all served on the House Armed Services Committee; Rigell also served on the powerful House Appropriations Committee, and Davis served on the House Permanent Select Committee on Intelligence. At the U.S. Chamber of Commerce, Connelly led the trade association's intellectual property (IP) public relations campaign, highlighting the importance of innovation and IP protection to the global economy. As the director of communications at the U.S. Department of Agriculture, Connelly managed the department's advocacy efforts on issues including renewable energy, trade, and reauthorization of the farm bill. (Learn more and follow Connelly on LinkedIn.)
Connelly earned a Ph.D. in communication and a Master of Arts degree in public policy from Regent University in Va., a Master of Science degree in national security from the U.S. Naval War College in R.I., and a Bachelor of Arts degree in government from Oral Roberts University in Okla.
About ASME
ASME helps the global engineering community develop solutions to real world challenges. Founded in 1880 as the American Society of Mechanical Engineers, ASME is a not-for-profit professional organization that enables collaboration, knowledge sharing, and skill development across all engineering disciplines, while promoting the vital role of the engineer in society. ASME codes and standards, publications, conferences, continuing education, and professional development programs provide a foundation for advancing technical knowledge and a safer world. In 2020, ASME formed the International Society of Interdisciplinary Engineers (ISIE) LLC, a new for-profit subsidiary to house business ventures that will bring new and innovative products, services, and technologies to the engineering community, and later established the holding company, Global Knowledge Solutions LLC. In 2021, ASME launched a second for-profit subsidiary, Metrix Connect LLC, an industry events and content platform to accelerate digital transformation in the engineering community and an agent for the Mechanical Engineering® brand of media products. For more information, visit www.asme.org.