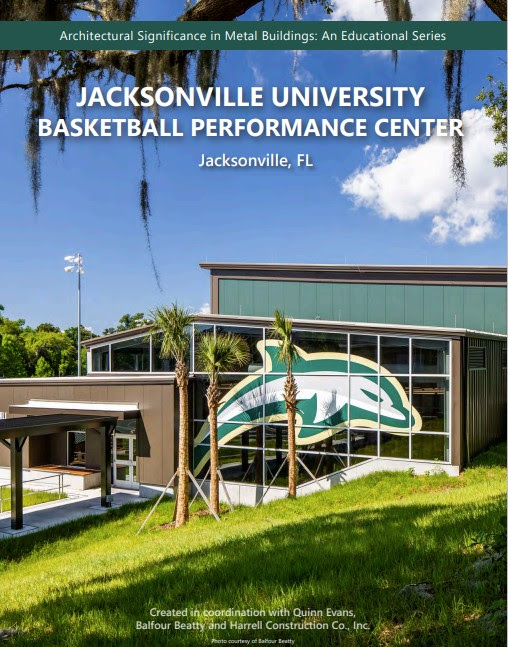 CLEVELAND, OHIO – www.mbma.com: The Metal Building Manufacturers Association (MBMA) has added to its library of free, downloadable resources for architectural students and their professors at https://www.mbmaeducation.org/resources/. The newest publication expands MBMA's Architectural Significance in Metal Buildings folio series of in-depth case studies for use in undergraduate and graduate architecture programs. Jacksonville University Basketball Performance Center is a 22-page folio that explores the design and construction of the university's new basketball facility for its student-athletes.

"The projects highlighted in our Architectural Significance in Metal Buildings series provides architecture faculty and students with a look at the stunning design possibilities of metal buildings," notes Tony Bouquot, MBMA general manager. "Each folio provides a comprehensive look at a unique facility and offers insights into design priorities and decisions as well as the results."

MBMA created the Jacksonville University Basketball Performance Center folio in coordination with Quinn Evans Architects, Harrell Construction Co., Inc. and Balfour Beatty. It includes:
Interviews with university personnel, the architect and construction team.
Design insights that delve into the need for a campus-friendly yet accommodating and flexible space.
Photos, drawings and design graphics that highlight important aspects of the project.
This is MBMA's fourth Architectural Significance in Metal Buildings folio. Others spotlight the Alamo Beer Company in San Antonio, the Boston Sports Institute in Wellesley, Massachusetts and the Michelle and Barack Obama Sports Complex in Los Angeles.

_________
Founded in 1956, MBMA serves manufacturers and suppliers as it works to promote the metal building systems industry. For over 60 years, its membership has supplied high-quality buildings for use in commercial, retail, office, industrial, institutional and other end uses. The association provides a wealth of useful information on its website, MBMA.com, for anyone who works with or is interested in metal building systems. Resources include technical materials, research reports, videos and design guides. The MBMA blog provides the most current research and new ideas to propel the industry.