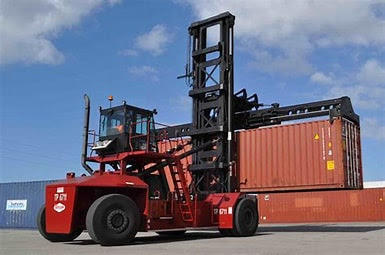 Chico, CA – AmeraMex International, Inc. (OTCQB: AMMX), a provider of heavy equipment for logistics companies, infrastructure construction and forestry conservation, announced that it has received equipment orders totaling $1.1 million which brings year-to-date sales up to $11.7 million. According to CEO Lee Hamre, the Company currently has over $2.6 million of equipment in the sales pipeline that is being refurbished and is expected to ship before the end of the second quarter.

The orders consist of the following equipment:
Liugong Forklift shipping to a high school welding shop in Chico;
Hoist 220 Container Handler shipping to the Pacific Northwest;
-Taylor XLC975 Container Handler shipping to a customer in the West Coast; and
-The Magni Telehandler also shipping to a customer on the West Coast.
The Magni line of telehandlers are new products for AmeraMex. The fixed telehandlers combine craftsmanship with innovation and technology for high-end performance in each application. Magni models are perfect for applications in industry and construction as well as the mining sector.

For more information and pricing of equipment for the logistics, construction, and forestry industries, or to book a demonstration of the Kovaco Electric's 100 percent electric skid steer loaders, ASV Posti-Tract and Skid Steer Loaders, Menzi Muck Excavators or a Magni Telescopic Handler, contact the AmeraMex/Hamre Equipment sales team at 530.895.8955.

About AmeraMex International

AmeraMex International sells, leases and rents heavy equipment to companies within multiple industries including construction, logistics, mining, and lumber. AmeraMex, with a US and international customer base, has over 30 years of experience in heavy equipment sales and service. Follow AmeraMex on Twitter @ammx_intl and visit the AmeraMex website, www.AMMX.net or www.hamreequipment.com for additional information and equipment videos.