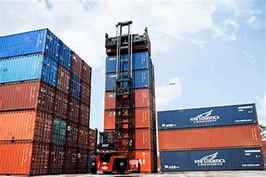 Chico, CA | AmeraMex International, Inc. (OTCQB: AMMX), a provider of heavy equipment for logistics companies, infrastructure construction and forestry conservation, announced that it has received equipment orders totaling $1,139,000. This brings Y-T-D sales totaling $3.9 million. The refurbished equipment is expected to ship before the end of the first quarter.
The first order consists of three Taylor Forklifts, a TX250, TX300 and TX330. All three forklifts are shipping to a California-based sawmill company.
There were two different orders for two Taylor XEC207/8 Empty Container Handlers. One is shipping to Washington State and the other to California.
The fourth order is for a Hoist Side Pic shipping to a California-based customer.
For more information and pricing of equipment for the logistics, construction, and forestry industries, or to book a demonstration of the Kovaco Electric's 100 percent electric skid steer loaders, ASV Posti-Tract and Skid Steer Loaders or a Magni Telescopic Handler, contact the AmeraMex/Hamre Equipment sales team at 530.895.8955.