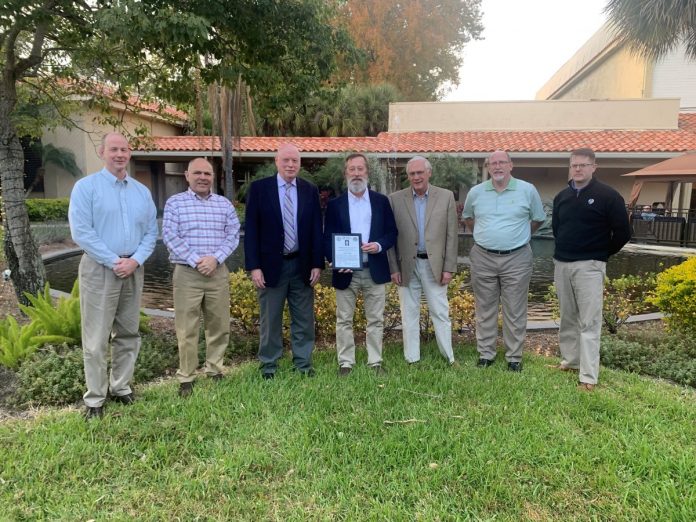 WASHINGTON, D.C. – The American Iron and Steel Institute (AISI) Steel Bridge Task Force; the National Steel Bridge Alliance (NSBA); and the American Association of State and Highway Transportation Officials (AASHTO) T-14 Technical Committee for Structural Steel Design have named Todd Helwig, Ph.D., director of the Ferguson Structural Engineering Laboratory and professor of engineering at the University of Texas at Austin, as the recipient of the 2022 Richard S. Fountain Award. 
Named for the founder of the AISI Steel Bridge Task Force, the Richard S. Fountain Award was established in 2001 to recognize leadership in steel bridge research and outstanding efforts to advance AASHTO specifications. Dr. Helwig received the award at the meeting of the AISI Steel Bridge Task Force on February 2, 2022 in Orlando, Florida. The award was presented by Michael Grubb of M.A. Grubb & Associates, who is also the first winner of the Richard S. Fountain Award; Ronnie Medlock of High Steel Structures, who is also chairman of the AISI Steel Bridge Task Force Oversight Council; Tom Macioce of the Pennsylvania Department of Transportation, who is also chairman of the AASHTO T-14 Committee; Chris Garrell from NSBA; and Dan Snyder from AISI.
 "We congratulate Todd Helwig on this award, which recognizes his significant contributions to the advancement of steel bridge design in many different areas, especially in the stability of steel structures, steel tub girder bracing design, and improved tub girder details," said Robert J. Wills, P.E., vice president of construction for AISI.
Wills noted that Dr. Helwig was instrumental in the development and improvement of many specification provisions involving global displacement amplification of narrow I-girder bridge units; the analysis and design of cross-frames in straight and curved steel I-girder bridges under NCHRP Project 12-113; the use of half-round bearing stiffeners on I-girders to allow for a perpendicular connection between the stiffener and a cross-frame or diaphragm connection plate for any skew angle at a support; and the investigation of lateral-torsional buckling of nonprismatic unbraced lengths. In addition, he is the primary author of Chapter 13 of the NSBA's "Steel Bridge Design Handbook on Bracing System Theory and Design for I-Girders and Tub Girders" and for NHI Course 130102 on Engineering for Structural Stability in Bridge Construction. 
Dr. Helwig has been active on several technical committees within the American Society of Civil Engineers (ASCE), the American Institute of Steel Construction (AISC), the Transportation Research Board, the AISI Steel Bridge Task Force, and the Structural Stability Research Council. His research has been recognized with the ASCE Collingwood Research Prize, the ASCE Moisseiff Award, and the ASCE Shortridge Hardesty Award. His work on stability bracing systems in steel bridges was recognized at the North American Steel Construction Conference with a Special Achievement Award, and he received the 2017 T. R. Higgins Lectureship Award from AISC.