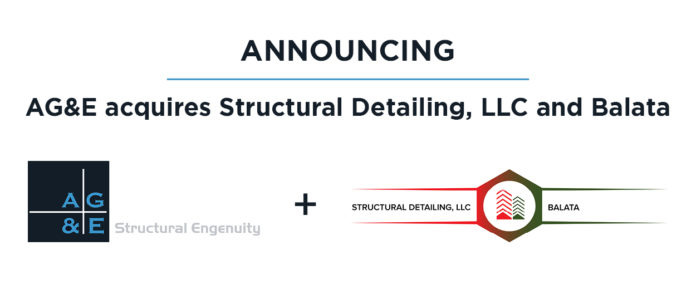 AG&E Associates, PLLC (AG&E), a nationally recognized structural engineering company headquartered in Texas, has acquired Structural Detailing LLC (SDLLC) and Balata, both structural design and detailing companies located in suburban Nashville, Tennessee, with an additional office in Hyderabad, India.
This acquisition brings the addition of over 100 professionals and puts AG&E in the company of some of the largest
structural design firms in the United States, continuing the march towards an increasingly national and international
footprint.
The founding member of SDLLC, W. Scotty Goodrich, PE, joins the leadership team of AG&E as an Executive Principal and Director of Structural Steel Detailing. Warren Goodrich, PE, SE, is the Director of Engineering for Balata.
"I am thrilled to welcome Scotty Goodrich, Warren Goodrich and the entire SDLLC and Balata staff to AG&E. They are highly regarded by their clients and peers in the industry, and they are simply good people," said Sanjay Agrawal, PE, SE, President and CEO of AG&E. "The acquisition of SDLLC and Balata represents the culmination of one of our long-term goals of providing structural design of steel buildings that is seamlessly integrated with structural steel detailing and fabrication packages. The value this will bring to our clients nationwide will be tremendous."
"Joining AG&E is a wonderful opportunity for SDLLC. Our work culture and values coincide," said W. Scotty Goodrich, PE.
"I have always wanted the best for our employees and clients and now I feel we are the best of the best."
"The Balata team is very excited to join such a reputable firm. The support we've received from AG&E through the transition has been second-to-none and representative of how they treat their clients," said Warren Goodrich, PE, SE.
"We look forward to the journey ahead."
Founded in 2004, AG&E has eight offices across Texas, Colorado, and Virginia. AG&E works with architects, general contractors, and owners across the nation on a myriad of projects. Its market sectors include mission critical, aviation,
healthcare, advanced manufacturing, corporate, distribution & logistics, education, federal, municipal, and parking garages. AG&E also offers structural sub-specialties such as advanced design technology, blast engineering, integrated precast, prestressed concrete design, parking planning, structural glass engineering, and vibration consulting to provide fully integrated structural design services to its clients.
"The acquisition of SDLLC bolsters our construction services strategic plan, which provides accelerated project delivery to our clients bringing speed, value, and efficiency to the design and construction process," said Al Baysek, PE, SE, CSO and Executive Principal of AG&E. "Structural steel detailing and steel connection design, coupled with our specialty precast, prestressed design services acquired in 2021, gives AG&E the robust construction services team envisioned in our 2019 Strategic Plan. The addition of Balata strengthens our market sector capabilities and adds a strategic locale, Tennessee, to our bases of operations."
To learn more about AG&E, visit www.age-se.com.