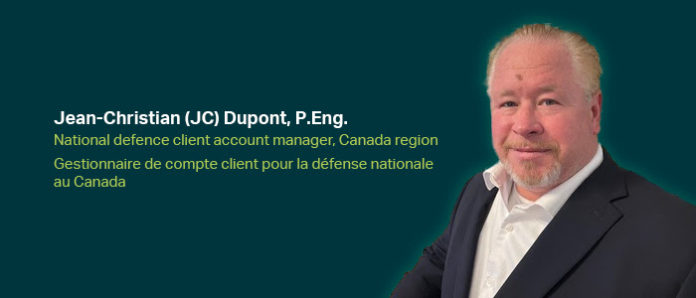 AECOM, the world's trusted infrastructure consulting firm, today announced today the appointment of Jean-Christian (JC) Dupont as client account manager for the Department of National Defence (DND), Defence Construction Canada, and the defence and security industry in the Canada region.
Mr. Dupont is a solutions-oriented professional with more than 25 years of progressive business development expertise, culminating in multiple leadership roles. He applies a people-focused approach to define business needs and identify operational gaps, championing value-added initiatives to improve sales strategy, drive business growth, and streamline processes. He is widely recognized for exceeding operational targets, and building consensus alongside executive leaders and key stakeholders to spearhead the development of dynamic solutions.
"JC has great depth of experience in defence and related government and industrial sectors and with his working experience and past performance across architecture, engineering and environment, operations, contracting and supply chain service elements of major defence programs," says David Wilson, vice president of federal government services for AECOM's Canada region. "We are very pleased to add JC to our Government Services team and look forward to the expertise, innovation and service commitment he will bring to AECOM and to our clients throughout Canada and abroad."
"What energizes me is AECOM's longstanding relationship with Indigenous communities, which further supports DND's mission," says Mr. Dupont. "I'm motivated by our shared purpose of delivering a better world, and I'm excited to be partnering with DND to implement real change in northern communities while protecting our fragile ecosystems from climate change."
Before joining AECOM, Mr. Dupont was director of business development for C-CORE, a not-for-profit research and development business based in St-John's Newfoundland. Immediately prior to that he held the same role with Serco Canada Inc. in Ottawa. In addition to business development activities, his responsibilities included strategic planning, consensus building, stakeholder engagement, process improvements, regulatory compliance, brand development and operations management.
Over the course of his career, Mr. Dupont has also had experience with several aerospace and high-tech organizations including CAE Inc., Bombardier Aerospace, L3 Harris Technologies, Rolls Royce Canada, Pratt & Whitney Canada and the Canadian Space Agency. He is graduate of the University of Sherbrooke, Quebec where he obtained a Bachelor of Science in Mechanical Engineering (Aerospace).