Quickly and accurately measure a stockpile, view it in 3D, and determine cut volumes in seconds.
Berkeley, Calif. — 3D Robotics announced that its Site Scan drone-based aerial analytics platform can now calculate cut and fill volumes directly without exporting drone data into other platforms.
Cut and fill analysis provides the information needed to effectively grade and level a jobsite and prepare it for construction. An accurate cut and fill helps save time and money, reduce risk, and better manage resources onsite.
Calculating a cut and fill properly, however, has long been a time-consuming process, with significant time spent in the field performing a topographic survey and back in the office analyzing the data. While drone surveying has significantly reduced time onsite, calculating cut and fill volumes has still been needlessly complex; it requires using multiple tools and specialized earthworks software.
Site Scan users can open the app and with the tap of a button get precise, actionable volume measurements. Site Scan's cut and fill calculations are based on data collected by the Sony R10C drone camera and three base planes available that account for the underlying terrain: lowest point, highest point, and best fit.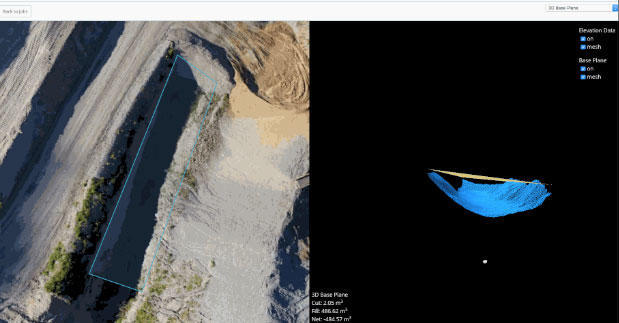 The best fit base plane gives precise fill volumes.
---
The lowest point base plane finds the lowest elevation in the vertexes of a boundary, and creates the base plane from that point. This is best suited for stockpiles on a flat surface — or with walls or other stockpiles nearby — that you plan to cut.
The highest point plane will work from the highest vertex of the boundary, and is great in cases where you plan to fill, like a trench, hole, or ditch.
The best fit base plane, which is the default plane in Site Scan, is the most robust of the three: it will automatically determine the most appropriate fit for the selected area.