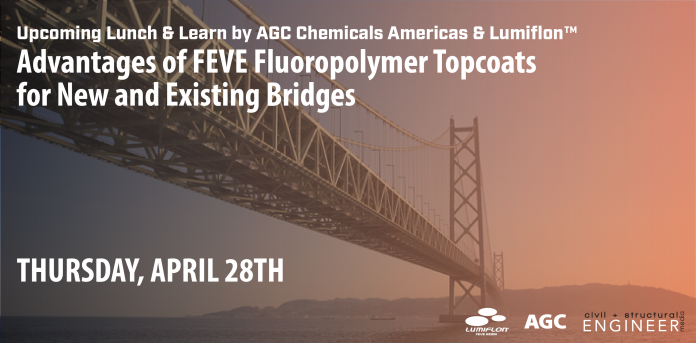 Thursday, April 28, 2022
In this one hour course, we will discuss the ability of FEVE fluoropolymer topcoats to resist UV degradation, corrosion and the ill effects of chemical exposure for both new bridges and maintenance re-coating of existing bridges. We will review the real-time and accelerated testing of FEVE fluoropolymer coatings in Japan, where they are used extensively on bridge infrastructure. We will also compare the life-cycle cost advantages of FEVE coating systems to the costs of other coatings, even though FEVE systems have higher initial costs.
Learning Objectives:
Compare

FEVE fluoropolymer topcoats with conventional coating formulations 

Review

the outstanding weathering and corrosion resistance that FEVE fluoropolymer topcoats offer based on accelerated and real time testing

Discuss

shop and field applications for new construction and maintenance of existing FEVE bridge topcoats

Substantiate

life cycle cost advantages and environmental benefits of FEVE coatings for bridges
About the Speaker:
Winn Darden
Title: Business Manager, LUMIFLON® Resins
Email address: Winn.Darden@agc.com
Winn Darden is Business Manager for LUMIFLON® Fluoropolymer Resins for North America. He has been involved in sales and marketing for coatings and coating raw materials for more than 30 years. Mr. Darden has given presentations at numerous conferences and for organizations including the Society for Protective Coatings, the National Association of Corrosion Engineers, National Steel Bridge Alliance, Polymers in Oil & Gas Symposium, the ABRAFATI Coatings Show in Brazil, the Transportation Research Board's Annual Meeting, and the PCI Powder Coating Conference. He has published articles in the Journal of Protective Coatings, Journal of Architectural Coatings, and Bridges Magazine. He has helped to develop programs registered with the AIA for continuing professional education. Mr. Darden has a BS in Chemistry and an MBA from the University of Texas at Austin. He holds 12 U. S. Patents.