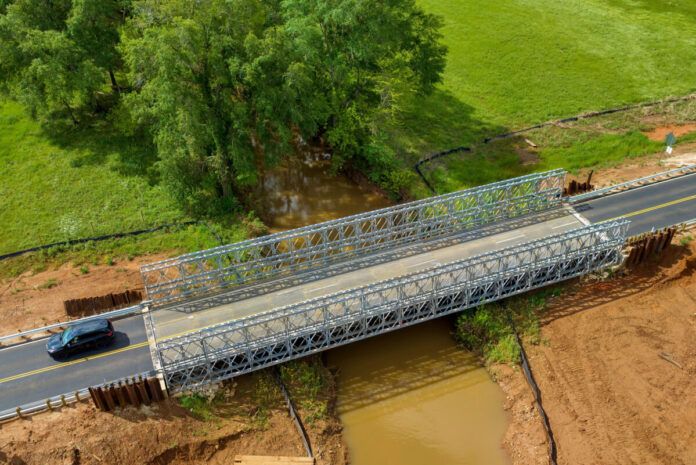 PARSIPPANY, N.J., June 22, 2023 (GLOBE NEWSWIRE) — Acrow, a leading international bridge engineering and supply company, announced today it has designed and supplied a modular steel bridge to carry detoured traffic during highway construction in Nacogdoches County, Texas. After exploring other options, the temporary detour solution was selected as the best way to meet the unique needs of the project, while minimizing the disruption to travelers in a rural location where no reasonable alternate route was available.
Just east of the small city of Nacogdoches, an aging bridge on State Highway 21 over the Carrizo Creek was slated for replacement. The route is used by both commercial and non-commercial traffic, including the many tourists drawn to the year-round historical, cultural and natural attractions in the area. When planning for the project began, keeping the same horizontal alignment of the existing roadway was considered a priority, and maintaining two lanes of traffic on the Texas DOT-designated Hurricane Evacuation Route was a legal mandate.
As a result, phased construction was not regarded as a viable option. With this method, possible intermittent lane closures could reduce traffic to a single lane, and keeping the alignment would have required adding a large shoulder to the old bridge to handle the two lanes of traffic in the subsequent phase. Building the new bridge adjacent to the existing bridge was also discounted, as it would change the alignment and create adverse right-of-way impacts. Based on the success of prior projects within the district that had successfully utilized temporary detour bridges, the Lufkin District of Texas DOT ultimately decided to use a temporary detour bridge as it would offer an economical way to address these concerns, while reducing construction time and providing a safe and reliable detour route for travelers and a safer environment for workers.
The project contractor, Drewery Construction Co., Inc., selected a single-span Acrow 700XS bridge with an overall length of 130 feet and a roadway width of 24 feet to accommodate two lanes of traffic. The modular steel structure was assembled on site beginning in September 2022 and installed in October using a full cantilever launch with an 80-foot launching nose. The temporary bridge will be in use until completion of the new bridge, now anticipated to be September 2023.
In addition to the clear safety benefits, Acrow's modular bridges can help keep projects on or ahead of schedule. Providing a predictable, reliable detour route mitigates many of the economic costs associated with long-term construction including vehicle and freight delays as well as burdens to local businesses and inconvenience to the local community.
"Our versatile modular bridges provide a good solution for state DOTs and contractors needing reliable, cost-effective detour solutions," said Acrow's Director National Sales & Military Business Development, Eugene Sobecki. "The use of prefabricated bridging systems has grown significantly in recent years as government agencies continue to adopt Accelerated Bridge Construction methods over phased construction to significantly minimize work zone impacts and reduce costs."
"Bridge rehabilitation and replacement projects are becoming more common as U.S. transportation infrastructure ages," added Bill Killeen, Acrow's CEO. "In addition to increasing safety for motorists, these urgently needed projects are integral to the economic health of the region and well-being of residents. Continued investment in critical transportation infrastructure through projects such as these plays an important role in ensuring our roads and bridges can meet the demands of today and tomorrow."