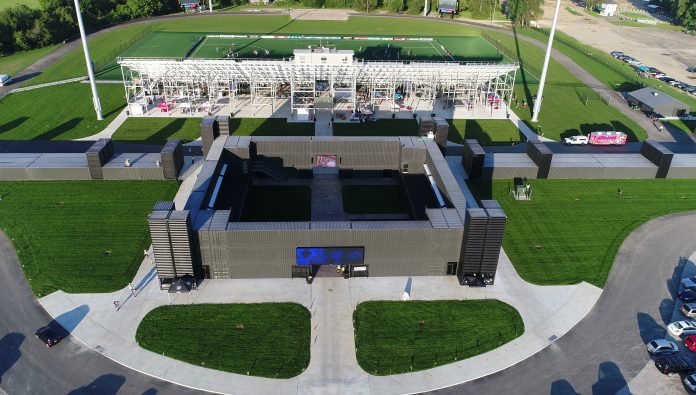 Trinity Private Equity Group Invests in Falcon Structures, a Container-based Structure Manufacturer out of Austin, Texas.
By Editorial Staff
Trinity Private Equity Group has made a substantial growth capital investment in Falcon Structures, a manufacturer of container-based structures. With this capital infusion, Falcon expects to double its number of employees by 2021 and ramp up the company's production capacity.
"Trinity's investment enables us to scale our business in order to dependably serve the rapidly expanding container-based structures market," said Stephen Shang, Falcon Structures CEO and co-founder.
The capital will fuel growth initiatives in Falcon's existing business of space augmentation using container-based structures, such as offices and storage units to re-purpose under-utilized space, field operations (mobilizing container-based structures to serve as working and living units for industrial field work), and equipment enclosures (containerizing high-value equipment to keep it secure and mobile).
Furthermore, as a premier private equity firm, Trinity recognized Falcon's potential to revolutionize the development and construction industry with fast, modular, container-based structures. This new partnership will leverage Trinity Private Equity Group's real estate experience to catalyze Falcon's entry into the modular construction market.
"Trinity is an exceptionally good fit for Falcon's strategic direction. They're bringing invaluable real estate resources to the table that will be instrumental in forging the future for container-based structures," said Shang.
Sanjay Chandra, managing partner at Trinity Private Equity Group and co-founder of American Leather is joining the board of directors, bringing extensive real estate and manufacturing experience to Falcon Structures. Alan Blake, co-founder of GloFish, is also joining Falcon's board of directors and lending his entrepreneurial experience to guide Falcon's growth.
"We see Falcon as a disrupter in construction technology with great opportunity for growth and setting a new standard in container-based construction," Chandra said.
Founded in 2003, Falcon can provide AC462 compliant containers fit for use as building materials. Every modified container is manufactured in Falcon's controlled facility to create a product that consistently exceeds customer expectations. Falcon's growing client base includes major energy corporations, defense contractors, construction firms, and the US Department of Defense.
Founded by entrepreneurs in 2006, Trinity's current holdings exceed two billion dollars and are comprised of traditional private equity, real estate, energy, and growth investments. Trinity's array of analysts and expansive network of advisors allows it to evaluate opportunities across many industry sectors.
In an interview with C+S, Shang said interest in container-base structures has been on the rise.
"In the last five years, people have started seeing the benefits of starting with shipping containers,"
Over the last 15 years, the company has developed a sophisticated supply chain. The company works with two container sizes: 8 X 40 X 8.5, and 8 X 20 X 8.5. More than 120 containers were used on one structure, Fortress Obetz, in Central Ohio.
"These are big Legos," Shang said.
Containers make sense for multifamily construction, schools, and office-sharing facilities. The trend is one of growth, Shang said.
In the wake of the big investment from Trinity, Shang is hitting the speaking circuit, and will even do a bit of advocacy – lobbying the International Code Council to address guidelines for building with containers.
He describes the container market as a Blue Ocean, a market defined by opportunity and creativity, as opposed to a Red Ocean, one characterized by saturation and cut-throat competition.
"Now is not the time to be fighting over the pie, but to expand the pie," Shang said.