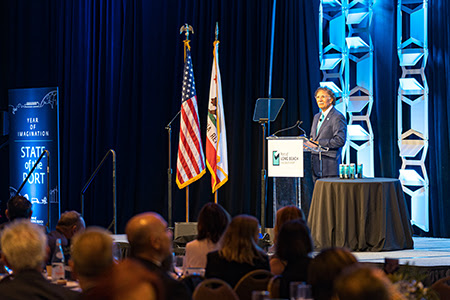 Imaginative initiatives will drive the Port of Long Beach's goal to become the world's first zero-emissions seaport, Executive Director Mario Cordero said Thursday during the first in-person State of the Port address since 2020, following two years of virtual events due to the COVID-19 pandemic.
Cordero committed to supporting state and federal efforts to increase renewable energy sources as he declared 2023 as the "Year of Imagination." Among the innovative projects planned, Cordero announced the Port's bid to assemble and manufacture offshore wind turbines that will increase the state's supply of renewable energy and reduce greenhouse gas emissions.
Citing the Port's unparalleled track record of industry-leading efforts and investments to improve air quality and natural harbor habitat, Cordero called on companies with strong environmental policies to choose the Port of Long Beach when shipping their goods and materials.
"I am proud to be part of an industry and a Port that together offer innovative approaches and forward-thinking initiatives that continue to be the most imaginative solutions in the nation," Cordero told 750 industry partners, community members and civic leaders gathered at the Long Beach Convention Center Grand Ballroom for the State of the Port address – available for viewing now at www.polb.com/stateoftheport.
"This Green Port has plenty of work ahead," Cordero said. "However, let there be no doubt – the Port of Long Beach is leading the way."
Building on nearly two decades of green initiatives, the Port is establishing a Zero Emissions, Energy Resilient Operations Program – known as ZEERO – to invest in projects aimed at reducing the impacts of operations and improving air quality.
Among its goals, ZEERO supports the development of renewable energy projects, including the Port's proposed Floating Offshore Wind Staging and Integration facility, known as "Pier Wind." A conceptual assessment is scheduled for completion in spring 2023 for Pier Wind, which aims to become the largest facility specifically designed to accommodate the assembly of offshore wind turbines at any U.S. seaport. Turbines assembled in Long Beach would be deployed to wind farms off the coast of Central and Northern California. The project would help California meet a goal of producing 25 gigawatts of offshore wind power by 2045, in addition to creating jobs and economic opportunities for communities near the San Pedro Bay port complex.
The Port ended 2022 with 9,133,657 twenty-foot equivalent units moved, down 2.7% from 2021, which remains the Port's most active year in its 112-year history. With more than 1.4 million TEUs of loaded exports moved, the Port remained the nation's leading export port for a second consecutive year. Easing into the second-busiest year on record allowed the Port to return to normal operations by the end of 2022.
"I look forward to strong partnerships on how we can imagine our Port moving even greener, stronger and more engaged in our communities," Long Beach Harbor Commission President Sharon L. Weissman said in remarks delivered at the event. "Let's have the courage to pursue together a zero-emissions Port that provides the best goods movement and service in the world."
Over the next decade, the Port plans to invest in rail improvements that will improve efficiency, reduce truck trips and lessen environmental impacts amid increases in cargo.
Key projects completed in 2022 include the Pier G-J Double Track Project, providing a crucial extra track for rail arrivals and departures in the Port's south basin area. Additionally, construction started on the Fourth Track at Ocean Boulevard project, adding another vital rail line to the Port. Construction begins in 2024 on the Port's rail program centerpiece, the Pier B On-Dock Rail Support Facility, which will allow longer trains to be created more frequently.
Another significant milestone was achieved in 2022, when President Joe Biden authorized the Army Corps of Engineers to proceed with planned channel deepening. The project will allow some of the largest shipping vessels to more easily transit Port of Long Beach waters, improving efficiency and the environment.
The Port of Long Beach is one of the world's premier seaports, a gateway for trans-Pacific trade and a trailblazer in goods movement and environmental stewardship. The Port handles trade valued at more than $200 billion annually and supports 2.6 million trade-related jobs across the nation, including 575,000 in Southern California.