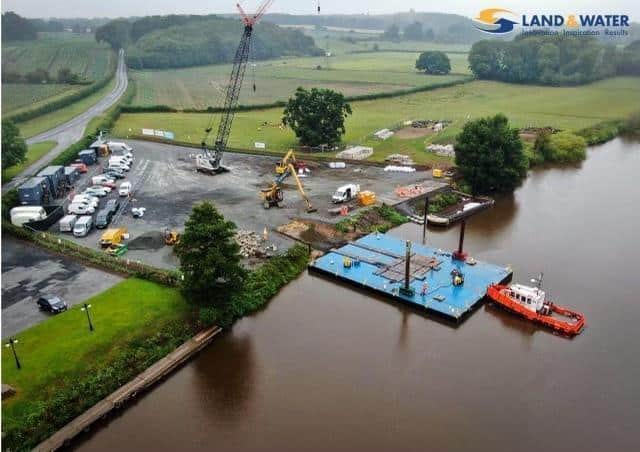 Land & Water Services, alongside its Plant division, has returned to the 'Unlocking the Severn' fish pass construction site at Holt Weir, along the River Severn in Worcestershire, to complete phase two of works.
On behalf of its client Kier, as part of one of the largest river restorations of its kind ever attempted in Europe, Land & Water will be carrying out a range of activities from a Legato Block installation to concrete works to build the fish pass which is essential for the rare migratory fish to travel to their natural spawning grounds.
Having achieved one of the biggest crane and pontoon arrangements in the business' history during phase one of the project, Land & Water is returning with a revised solution to continue works in the unpredictable environment of the River Severn.
Lucy Lee, Contracts Manager at Land & Water, said: "We are happy to be returning to the 'Unlocking the Severn' project at Holt Weir to continue works that maintain the waterways whilst ensuring local aquatic life is protected.
"By using a range of specialist machinery the project team can effectively manage the environment we are working in, which is known to flood quite quickly, whilst helping to restore the river and fish pass structure."
Funded by the National Lottery Heritage Fund and the European Union LIFE program, 'Unlocking the Severn', a partnership project led by the Canal & River Trust, will restore connectivity on the UK's longest river and aims to deliver ambitious heritage, education and science programs that will reconnect millions of people with the river.
This next phase of works will see Land & Water continue to work collaboratively with the different arms of the Group to build the fish pass as well as install walkways, Penstocks and fencing followed by the removal and demobilization of the dam.
This project marks another Land & Water venture highlighting its commitment towards improving the eco-system of the UK's waterways.