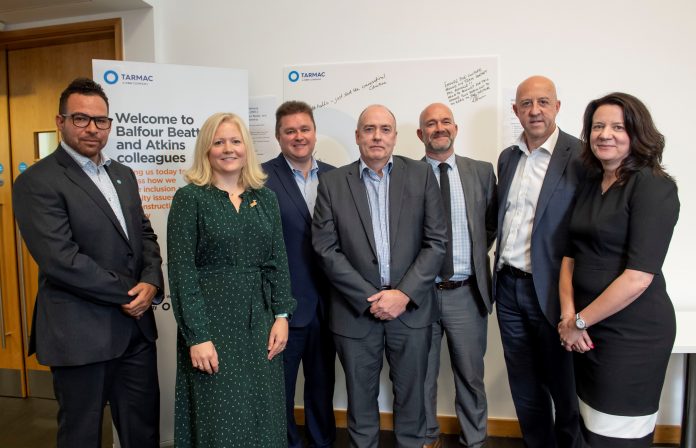 This week, Balfour Beatty joined forces with Tarmac and Atkins to discuss diversity and inclusion in the construction and infrastructure industry.
Held during National Inclusion Week, the session was led by senior management and explored the representation of women in leadership roles, how to attract diverse talent to address the industries skills shortage and how to make people feel more comfortable in discussing race related issues in the workplace.
Dean Banks said: "At Balfour Beatty, we believe that greater inclusivity and diversity within our workforce creates a working environment that nurtures employees of all skills and abilities.
"We are deeply committed to providing equal opportunity for our employees across the Balfour Beatty business and it is imperative to open this industry-focused discussion during National Inclusion Week".
Speaking at the event, Tarmac's HR director, Graeme Boylen, said: "National Inclusion week is a great opportunity for Tarmac and our friends at Balfour Beatty and Atkins to celebrate the many achievements and successes of our people, and to celebrate the increased diversity and inclusion of our workforce.
"It is extremely important to us that everyone – regardless of their background or circumstances – is able to reach their potential. For this to happen, we need to continue to work hard to create an environment of inclusion, where each of our employees feel a sense of belonging so that they can bring their whole self to work."
Bev Waugh, Atkins' Project/Client Director, who also spoke at the panel, added: "Diverse groups are more innovative and make better decisions which is why our industry needs to continue cultivating an inclusive environment where talent knows no distinction and where people are empowered to realise their full potential.  We all have a role in making this happen, and we must challenge ourselves and each other if we see behaviours that don't support it."
Having launched its Diversity and Inclusion Affinity Networks in 2016, Balfour Beatty is committed to creating an environment where all employees can be themselves at work and perform at their best.
Engaging in discussions such as these and being recognised at the Civil Engineering Contractors Associated Inspiring Change Awards for initiatives such as its reverse mentoring programme, is yet another example of how Balfour Beatty is leading the discussion on diversity and inclusion in the industry.