---
Much like other sustainability systems for buildings and infrastructure, Envision — developed and implemented by the Institute for Sustainable Infrastructure (ISI; https://sustainableinfrastructure.org) — has a rating component. Projects are evaluated against a set of criteria and score points based on levels of achievement attained. High scores are recognized by four possible award levels — Bronze, Silver, Gold, and Platinum.
Over the years, Envision users, including owners, planners, designers, and contractors, have found value in attaining third-party verification. They indicate that pursuing Envision verification provides many benefits, including the following:
instils community confidence that the project addressed their needs and concerns;
instils rate-payer or tax-payer confidence that their money is being spent in their best interest;
demonstrates that the sustainable achievements of the project are recognized and considered noteworthy by an independent, internationally recognized system;
motivates the project team;
provides an objective measure of sustainable performance;
draws attention to the good work being undertaken;
emphasizes the importance of tracking performance, collecting documentation, and following a sound methodology from project inception through to construction and operations; and
provides a quality control/quality assurance measure to confirm project assessments are accurately completed by the appropriate agency/department/municipality.
Beyond verification, the value of Envision also resides in how it helps teams draw important connections between design decisions and how one decision or design element can impact the value of another. While there are many project examples from which to choose, I have selected a small sample of Envision-verified projects to illustrate this point. (To see the full list of Envision-verified projects to-date, check out the Project Awards page on ISI's website at https://sustainableinfrastructure.org/envision/project-awards/#3/48.22/-95.80.)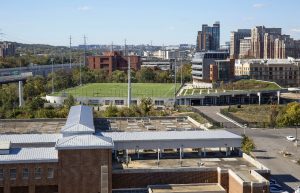 Example 1: The Envision-verified Nutrient Management Facility (https://sustainableinfrastructure.org/envision/project-awards/nutrient-management-facility) in Alexandria, Va., built a multi-purpose athletic field for the community on top of the facility that will be operated by the City of Alexandria's Department of Recreation, Parks, and Cultural Activities. This decision to include a recreational component as part of the project led to several positive outcomes. Enhancing existing or developing new recreational facilities helps improve overall quality of life for the community and, in the case of this project, helped to preserve the local character of the community as well as strengthen important relationships between the facility operator and city. (Related Envision credits in this example include QL1.1 Improve Community Quality of Life; QL 3.2 Preserve Views and Local Character; and QL3.3 Enhance Public Space.)
Example 2: The Grand Bend Area Wastewater Treatment Facility (http://sustainableinfrastructure.org/envision/project-awards/grand-bend-area-wastewater-treatment-facility) that serves the municipalities of South Huron and Lambton Shores in Ontario, Canada, is another example where a project team used Envision to understand the impacts of and linkages between design decisions. Building on an existing site required a significant amount of fill to elevate the facility. The fill had to come from somewhere, and the project team's decision to obtain it onsite provided many opportunities to improve performance.
For instance, by obtaining the required fill to elevate the facility from the project site, the team reduced transportation and environmental impacts associated with the movement of soils and other excavated materials. The resulting hole was turned into a constructed wetland to further buffer treated effluent and to create new habitat to support native wildlife. The team further capitalized on this opportunity by developing nature trails with interpretive signage to encourage visitors to the area. (Related Envision credits in this example include QL3.3 Enhance Public Space; RA1.6 Reduce Excavated Materials Taken Off Site; NW1.1 Preserve Prime Habitat; NW1.2 Protect Wetlands and Surface Water; and NW3.1 Preserve Species Diversity.)
Example 3: Reducing the overall energy consumption of an infrastructure project makes it easier to attain the renewable energy credit in Envision. The Envision-verified South Los Angeles Wetland Park (http://sustainableinfrastructure.org/envision/project-awards/south-la-wetland-park) in Los Angeles achieved operational energy reductions of at least 70 percent, making it that much easier for the project to meet its energy needs through renewable sources. In the case of this project, more than 60 percent of the project's energy needs are provided through solar energy. (Related Envision credits in this example include RA2.1 Reduce Energy Consumption; and RA2.2 Use Renewable Energy.)
Example 4: Extending the useful life of a project can significantly impact the monitoring and maintenance of the completed works over the long term, as the project team realized for the Runway 4L/22R and Associated Taxiways Reconstruction (http://sustainableinfrastructure.org/envision/project-awards/runway-4l22r-and-associated-taxiways-reconstruction) at the Detroit Metropolitan Wayne County Airport in Michigan. At the outset of this project, the team considered several ways to extend the useful life of the project by designing it to be more durable, flexible, and resilient.
For example, the team increased the durability of the runway pavement to meet a 30-year design life rather than the Federal Aviation Administration's standard of 20 years. In addition to specifying more durable paving materials, the team looked at how other project components, such as the drainage system, could impact the durability of the pavement. The team also used pre-framed joints to enable easier repairs and reduce maintenance costs. These design decisions, considered early on, will minimize maintenance requirements over the life of the project. (Related Envision credits in this example include LD3.1 Plan for Long-Term Monitoring and Maintenance; and LD3.3 Extend Useful Life.)
These four examples illustrate some of the relationships among the issues addressed by the credits within the Envision system. They also serve to highlight how the Envision system can be used by project teams to consider how one design decision can impact another. But these are a small handful of cases.
As I write this article, there are 76 projects participating in the Envision verification program, representing more than $20 billion worth of infrastructure assets across the United States and Canada. This number does not include the many projects that are using the Envision system as a self-assessment tool, nor does it account for projects outside North America that are using the system. Quite clearly, the market is seeing the value in using the Envision system to help plan, design, build, and operate more sustainable projects.
---
Melissa Peneycad, ENV SP, is director, Sustainable Projects at the Institute for Sustainable Infrastructure (https://sustainableinfrastructure.org). She oversees and directs the verification program for the Envision rating system for sustainable infrastructure. Her responsibilities also include developing relationships with infrastructure owners, designers, and public agencies across Canada and the United States, and supporting research and further development of the Envision system.