---
San Rafael, Calif. — Autodesk's Structural Precast Extension for Revit 2018 is a BIM-centric offering for modeling and detailing precast concrete elements that promotes productivity and precision for engineers, detailers and fabricators working on typical building projects in the precast industry. As an app for Autodesk Revit software, Structural Precast for Revit provides Revit users access to powerful tools for automatic rule-based segmentation, reinforcement, shop drawings and CAM files generation of precast planar concrete elements. The app is available on the Autodesk App Store at https://apps.autodesk.com/en.
Leveraging the concept of Parts, which support the construction modeling process by letting users divide certain elements from the design intent model into discrete parts, the app provides the opportunity of having one single source of truth for various people who need to work with the model. This way, designers' and fabricators' perspectives are respected and various Levels of Development can be displayed – two key benefits of embracing a Revit-based workflow for precast projects.
Based on predefined parameters in the "Configuration" dialogue box, users can specify the rules that will help drive the automated workflow downstream from design to fabrication. Elements are automatically segmented and fitted with connectors, lifters and bushings. All of these are Revit families, so customization is easy. Reinforcement is also done automatically and users can define multiple patterns, based on fabric sheets or rebar sets. There is even a tool that creates Custom Fabric Sheets, where each wire can have its own diameter, length and distance with respect to the adjacent wires. This is useful both for optimizing the rebar consumption based on structural analysis and for minimizing clashes with various MEP equipment that might be embedded or going through the panels.
The app comes with another tool that automatically adds to the corresponding precast assemblies all the electrical sockets, cable ducts, extra rebars or any other kind of component that is in the model. This way, the precast walls and slabs will contain the logic that is required for fabrication, minimizing much of the hassle in the factory or on site.
One particularly powerful tool that Structural Precast for Revit offers is Automatic Shop Drawings. Once the company's standards related to drawing style and content are embedded in the drawing templates, for each precast element the drawing is created, with all relevant views and bills of materials. If required, multiple shop drawings for each assembly can be generated; for instance, one showing the reinforcement and one highlighting the position of the embeds. This Automation tool can be used with company standards for all elements at once, all elements per submittal or per element.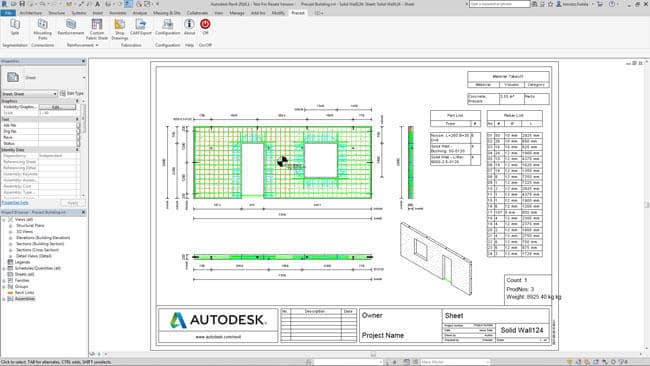 ---
Coordination of the precast model with Architecture and MEP comes as a natural benefit of working in Revit. In the highly likely event that changes need to be performed to the precast elements, the precast elements, shop drawings and bills of materials are automatically updated — helping to keep information up-to-date.
When Fabrication is ready to start, CAM files are created with just one click. Both Unitechnik (versions 5.2 and 6.0) and PXML (version 1.3) are supported. The various file naming options and output settings offer flexibility to generate these deliverables simultaneously in a swift and tailored fashion.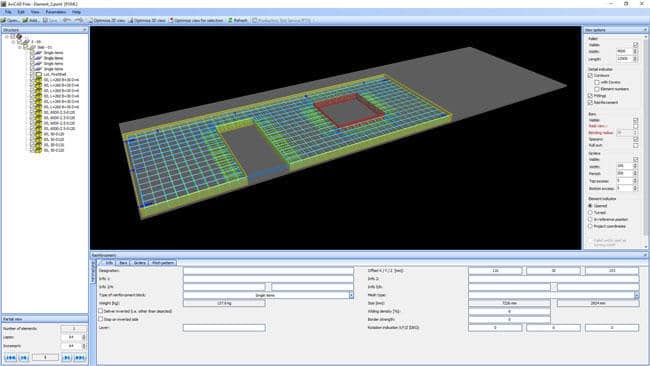 ---
The product is mostly suitable for typical building projects, made up of slabs and walls produced in factories with a high level of automation. Currently, three types of elements are supported by the new app: Solid Walls, Solid Slabs and Hollow Core Slabs.